THE HAGUE, July 14, 2009 (AFP) - Former Liberian president Charles Taylor dismissed charges of war crimes and crimes against humanity as "lies" Tuesday as he took the stand for the first time at his landmark trial in The Hague.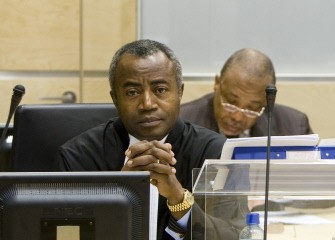 Former Liberian President Charles Taylor (R) and his defence counselor Courtenay Griffits (L) sit in the courtroom of the International Criminal Court, prior to the beginning of his defense case during his trial in The Hague July 13, 2009. (AFP photo)
"It is very, very, very unfortunate that the prosecution's disinformation, misinformation, lies and rumours would associate me with such titles" as a murderer or rapist, the former warlord told the court of the charges which stem from the brutal 1991-2001 civil war in neighbouring Sierra Leone.
"It is quite incredible that such descriptions of me would come about," he said in response to a question from his defence lawyer.
"I am none of these -- I have never been and never will be, whether they think so or not," he added.
Taylor, the first African leader to be tried before an international tribunal for war crimes and crimes against humanity, is expected to argue that he tried to broker peace in the west African nation rather than fuel war.
It is the first time that he has taken the stand some 18 months after the start of his trial.
Dressed in a dark grey suit and crisp white shirt with a dotted tie and gold cufflinks, Taylor solemnly declared to speak only the truth.
Clearing his throat, the 61-year-old then told the judges: "My name is Dakpenah Dr Charles Ghankay Taylor, the 21st president of the Republic of Liberia."
"I fought all my life to do what I think was right" and achieve "justice for my people", he added.
In opening statements for the defence on Monday, Taylor's lawyer Courtenay Griffiths refuted any idea that Taylor was "an African Napoleon bent on taking over the sub-region" but said he instead acted as "a broker of peace".
Taylor, the first witness to take the stand for the defence, faces 11 charges for murder, rape, conscripting child soldiers, enslavement and pillaging in one of the most brutal wars in modern history.
He is accused of arming, training and controlling Revolutionary United Front (RUF) rebels blamed for the mutilation of thousands of civilians who had their hands and arms severed.
About 120,000 people were killed in the conflict.
Prosecutor Stephen Rapp has insisted that Taylor was "an exceptional violator of human rights" who steadily provided weapons and support to the RUF in exchange for "blood diamonds".
The ex-leader's testimony is expected to last six to eight weeks and should shed new light on the wars in Sierra Leone and in Liberia.
A final verdict in the case is only expected in a year's time.
The defence has deposited a list of 249 witnesses who might be called and has accused the prosecution of making "lavish payments" to its own 91 witnesses.
Taylor became president of Liberia in 1997 after his rebels unseated president Samuel Doe in 1989, but was himself overthrown by a rebellion and agreed to go into exile in 2003.
He was handed over the Special Tribunal for Sierra Leone in 2006 following his arrest in Nigeria.
The former warlord's trial was moved from Sierra Leone to the Netherlands because of fears that his presence in the African country could destabilise the region. He has been on trial in The Hague since January 2008.
Griffiths told the court on Monday it was wrong to portray Taylor as "such a bad man", given that he made "efforts to end the sufferings of the Liberian people" and "rebuild its fledgling economy".
A Liberian Truth and Reconciliation Commission (TRC) last week released a damning report on the Liberian civil wars of 1989-2003 and included Taylor on a list of eight warlords it wanted brought to trial for crimes against humanity.