TRIPOLI, June 28, 2011 (AFP) - Moamer Kadhafi's government has hit back at an International Criminal Court arrest warrant for war crimes against the veteran Libyan leader, charging the tribunal was just a tool of European powers.
On the ground, rebel fighters on Tuesday launched an attack on an arms depot held by pro-Kadhafi forces in a desert area 25 kilometres (15 miles) from the hilltown of Zintan, southwest of Tripoli, an AFP correspondent at the scene said.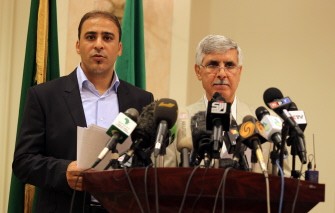 AFP - Governement spokesman Moussa Ibrahim (L) and Libya's new justice minister, Mohammed al-Gamudi (R) speak at a press conference on June 27, 2011 in Tripoli.
Human rights bodies and the West, meanwhile, hailed the ICC's move on Monday that came on the 100th day of a NATO bombing campaign.
Libya rejected the warrants issued for Kadhafi, 69, his son Seif al-Islam, 39, and the head of Libyan intelligence, Abdullah al-Senussi, 62, for atrocities committed in a bloody uprising that began mid-February.
The ruling is a "cover for NATO which is still trying to assassinate Kadhafi", said Libya's justice minister, Mohammed al-Gamudi.
Deputy Foreign Minister Khaled Kaaim said the ICC "functions as a European foreign policy vehicle.
"It is a political court which serves its European paymasters," he said, adding: "Our own courts will deal with any human rights abuses and other crimes committed in the course of conflict in Libya."
In the latest fighting in the Berber mountains, government troops fired Grad rockets as rebels in armoured cars circled a zone near Zintan with buildings used as depots for arms, which anti-Kadhafi forces need for any advance on Tripoli.
NATO warplanes have repeatedly struck the area over the past two months.
ICC chief prosecutor Luis Moreno-Ocampo sought the warrants as thousands died in fighting and an estimated 650,000 people fled the country with Kadhafi clinging to power despite NATO strikes easing the siege of key rebel cities.
The Libyan government said Monday that a luxury bus parked at the leader's Tripoli residence had been destroyed in one of the latest raids, which were launched on March 19.
The White House hailed the ICC warrants, describing them as "another indication" that Kadhafi has lost all legitimacy.
Britain, another leading member of the UN-mandated effort to protect civilians against Kadhafi's forces, also welcomed the decision. "Individuals throughout the regime should abandon Kadhafi," Foreign Secretary William Hague said.
French Foreign Minister Alain Juppe said the warrant "confirms that the question is not whether Kadhafi should leave power, but when he will leave power".
The ICC said the three men were wanted for their roles in suppressing the revolt, in which civilians were murdered and persecuted by Libyan forces, particularly in Tripoli, Benghazi and Misrata.
Gamudi noted that his country was not a signatory to the tribunal's founding Rome Statute, and "does not accept the jurisdiction of the court".
But the head of Libya's rebel National Transitional Council, Mustafa Abdel Jalil, told a news conference in the rebel capital of Benghazi that "justice has been done".
In The Hague, rebel justice minister Mohammed Al-Allagy told reporters outside the ICC: "We are going to arrest them... We will decide afterwards where to prosecute them."
In his submission, Moreno-Ocampo said Kadhafi had a personal hand in planning and implementing "a policy of widespread and systematic attacks against civilians and demonstrators and dissidents in particular".
"Kadhafi's plan expressly included the use of lethal force against demonstrators and dissidents," the prosecutor contended.
The Libyan strongman ordered the shooting of civilians leaving mosques after evening prayers, said the submission, and his forces carried out a systematic campaign of arrest and detention of alleged dissidents.
Moreno-Ocampo's investigation follows a referral by the United Nations Security Council on the Libyan conflict on February 26.