Mar 18 (AFP)
0909 GMT: In Bahrain, the Shiite opposition have called for fresh demonstrations after Friday prayers, in defiance of martial law and a violent crackdown by the US-backed kingdom's security forces.
Hundreds of people have gathered at the village of Sitra outside Manama to bury two victims of a week of violence which has left at least eight dead, including protesters and police, and hundreds of demonstrators wounded.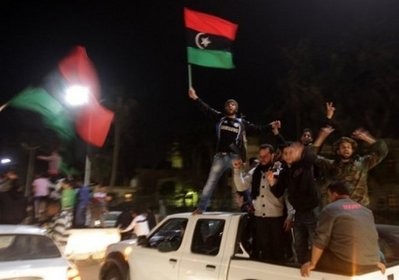 Libyan rebels celebrate in Benghazi last night after the United Nations Security Council voted to impose a no-fly zone over Libya. AFP
But they have been left waiting as the authorities are refusing to release the bodies from Manama's main hospital, which has been taken over by security personnel amid UN fears of "shocking and illegal" abuses in the tiny Gulf state.
0905 GMT: In case you missed the overnight details, the defence ministry in Tripoli has warned that "any military operation against Libya will expose all air and maritime traffic in the Mediterranean to danger."
Deputy Foreign Minister Khaled Kaaim immediately after the UN resolution was passed said Libya is ready for a ceasefire but wants to discuss its terms.
He told reporters in Tripoli the regime will "react positively to the UN resolution, and we will prove this willingness while guaranteeing protection to civilians."
0858 GMT: Germany says it remains "eminently sceptical on the option of military intervention."
"We see in it considerable risks and dangers. That is why we could not approve this part of the (UN resolution) text," a statement by Foreign Minister Guido Westerwelle said.
0855 GMT: Poland will offer logistical support but will play no military role in Libya, Defence Minister Bogdan Klich says.
"We are ready to help with our transport plans. We can deploy some of our forces and our resources for humanitarian aid," Klich told TOK FM radio station.
"As regards the military no-fly zone (in Libya), we do not envisage taking part in its implementation with our armed forces," he said.
0847 GMT: "Based on the UN Security Council resolution, Qatar has decided to contribute in the efforts aiming at stopping bloodshed and protecting civilians in Libya," QNA quotes a foreign ministry official as saying.
The gas-rich Gulf emirate "welcomed" the UN resolution and urged "quick action to impose (it)... to stop bloodshed and bring security and stability to the Libyans," says the statement.
0841 GMT: More from French government spokesman Francois Baroin:
The military action "is not an occupation of Libyan territory" but seeks to "protect the Libyan people and to allow them to go all the way in their drive for freedom, which means bringing down the Kadhafi regime," he said on RTL radio.
Baroin declined to say "when, how, on which targets, in what form," the strikes will come. "The French who were at the vanguard of this call (for intervention) will naturally be part of the military intervention."
0836 GMT: Indian Prime Minister Manmohan Singh says he wants citizens of North Africa and West Asia take their own decisions "free of outside interference". India abstained lat night in the UN Security Council vote on a no-fly zone.
"As a democracy, we are happy to see our brothers in West Asia and North Africa taking an increasing role in determining their own future," Singh told a conference in New Delhi.
But "these are decisions for countries and their citizens to take for themselves, free of outside interference or coercion," he said.
0834 GMT: NATO will today discuss what role the alliance may take in Libya after the UN approved military action in the strife-torn country, NATO's spokeswoman has announced.
0827 GMT: A son of Libya strongman Moamer Kadhafi has said his family is "not afraid" after the United Nations approved air strikes against forces loyal to his father's regime.
"We are in our country and with our people. And we are not afraid," Seif al-Islam Kadhafi told ABC News Nightline from Tripoli.
"We will not be afraid. Come on! We will not be afraid. I mean, you are not helping to the people if you are going to bomb Libya, to kill Libyans. You destroy our country. Nobody is happy with that."
0821 GMT: Qatar will contribute to international efforts to protect Libyan civilians and has urged quick action to impose a no-fly zone on the North African country, state news agency QNA reports.
0812 GMT: Kadhafi's forces are pounding the rebel bastion of Misrata, east of Tripoli, after a night of heavy gunfire, a rebel spokesman has told AFP.
"Dozens of bombs of all sorts have fallen on the city since last night," the spokesman says, adding the bombing is "still intense."
0800 GMT: Libyan rebel bastion Benghazi has erupted with celebratory gunfire after the UN Security Council cleared the way for air strikes to halt Moamer Kadhafi's offensive on Libyan insurgents.
The 15-member Security Council in a resolution approved "all necessary measures" to impose a no-fly zone, protect civilian areas and pressure the veteran Libyan leader into accepting a ceasefire.
The UN vote passed 10-0 with five abstentions -- permanent members China and Russia, who did not wield their vetos, plus Germany, Brazil and India.
Military action against Libya will come within "hours" and France will participate in the strikes, government spokesman Francois Baroin said this morning. The strikes will come "rapidly... within a few hours," he told RTL radio.
Diplomats have indicated that air strikes from a coalition led by Britain, France and the United States could be imminent. However, the resolution rules out sending in foreign ground troops.