BENGHAZI, Libya, Aug 21, 2011 (AFP) - Libya rebels on Sunday infiltrated the capital Tripoli by sea in a covert operation launched from their western enclave of Misrata, a rebel spokesman said.
An advance party "from Misrata reached Tripoli this dawn by sea and joined Tripoli rebels. They are now fighting alongside them," spokesman Abdullah Melitan told AFP in Misrata, 200 kilometres (125 miles) from Tripoli.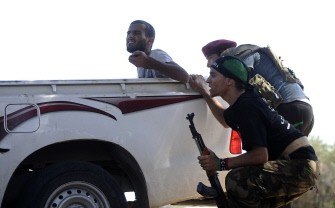 AFP - Libyan rebels duck for cover during fighting against regime forces near the Gadayem forest, west of Tripoli, on August 21, 2011
Libyan rebels took control of Misrata in mid-May after repelling forces loyal to Moamer Kadhafi who had laid siege to the strategic port city for two months.
On Friday, pushing forward on the road to Tripoli, rebels claimed they seized Zliten, leaving the town of Khoms as the only barrier between them and the eastern fringes of the capital, about 100 kilometres (60 miles) away.