Libya's deputy foreign minister Khaled Kaaim warned Saturday that any foreign intervention would prompt Libya's neighbours to rally behind Moamer Kadhafi, in an interview with BBC radio.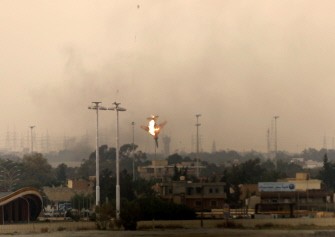 A Libyan jet bomber crashes after being shot down in Benghazi on March 19, 2011 as Libya's rebel stronghold came under attack, with at least two air strikes and sustained shelling of the city's south sending thick smoke into the sky.
"If there is an attack from outside or a foreign intervention, you will not only see Libyans, you will see people from Algeria, from Tunisia, from Egypt... all of them, they will be part of fighting on the Libyan ground," he said.
Speaking before air strikes hit Libya's rebel stronghold of Benghazi on Saturday, Kaaim insisted that pro-Kadhafi forces were abiding by a United Nations demand for a ceasefire.
"The ceasefire is real, credible and solid," he said.
France was to host a summit Saturday with the European Union, Arab League and African Union, as well as UN chief Ban Ki-moon, on taking military action in Libya after the UN voted to authorise the use of force to protect civilians.
Paris summit to decide Libya military strikes
US, European, Arab and African leaders gather in Paris on Saturday for a summit on Libya with the threat of military strikes against Moamer Kadhafi's forces growing ever more intense.
A senior French envoy predicted military action against the Libyan leader within hours of the summit. The United States has also declared that Kadhafi is in breach of a UN Security Council resolution which ordered an immediate ceasefire.
An ultimatum sent by France, Britain, the United States and Arab countries to Kadhafi late Friday warned him to "immediately" cease all attacks on his people or face the consequences.
France's ambassador to the UN, Gerard Araud, told the BBC he expects military action in Libya "in the coming hours" after the Paris summit.
President Nicolas Sarkozy will host the crisis summit to be attended by British Prime Minister David Cameron, German Chancellor Angela Merkel, Canadian Prime Minister Stephen Harper, US Secretary of State Hillary Clinton, UN Secretary General Ban Ki-moon and leaders from the European Union, Arab League and African Union.
Diplomats said the leaders and other officials would discuss coordination of any military action.
French Foreign Minister Alain Juppe said the summit would be "decisive" for the timing of any order to launch military strikes.
So far Belgium, Britain, Canada, France, Italy, Norway, Spain, Sweden, Qatar and the United States have said they will help to implement a no-fly zone that was authorised by UN Security Council resolution 1973 passed on Thursday.
Diplomats have said the United Arab Emirates and possibly Jordan could also join the coalition.
Western nations have called for strong Arab support for the military operation after Arab League foreign ministers called for the no-fly zone over Libya last week.
League Secretary General Amr Mussa will be at the summit.
EU foreign policy chief Catherine Ashton and EU president Herman Van Rompuy will also be in Paris. Ashton gave another grim message for the Libyan leader before the meeting. "Our view is that Kadhafi should go," she reiterated.
The statement released by France and other allies said that "a ceasefire must be put in place immediately, that is, that all attacks against civilians must come to an end".
It demanded that Kadhafi forces halt their advance on the rebel capital of Benghazi and withdraw from the cities of Ajdabiya, Misrata and Zawiyah. "That is not negotiable," it warned.
If Kadhafi did not comply with the Security Council resolution, he would face "consequences" from the international community and "the resolution will be imposed by military means".
"Left unchecked, we have every reason to believe that Kadhafi would commit atrocities against his people," US President Barack Obama said, reinforcing the international message. "Many thousands could die. A humanitarian crisis would ensue."
Kadhafi declared a ceasefire on Friday but Libyan rebels said fighting goes on.
Details of the role of each country in the threatened action remain vague.
The British prime minister said his country would deploy Tornado and Typhoon warplanes as well as air-to-air refuelling and surveillance aircraft to airbases "from where they can take the necessary action".
Britain has an airbase on the eastern Mediterranean island of Cyprus.
France has not yet announced what planes or facilities it is preparing.
Canada has announced the deployment of six CF-18 fighter jets to help enforce a no-fly zone.
Obama has left unclear the exact role that the United States would play in military action, beyond enabling European and Arab partners to "effectively" mount a no-fly zone.
He made clear, however, that there would be no US ground troops deployed to Libya.