Hundreds of hungry civilians from Sirte lined up Sunday on the eastern outskirts of the war-wracked city to receive food aid away from the battle for Moamer Kadhafi's besieged hometown.
Men and children, holding ration cards, passports and other identification papers, turned up in cars or on foot to take away food items for their families being distributed by a local charity.
"I have 17 people in my family, eight of them children, who are hungry and have nothing to eat," said Rafah Hamid, who fled Sirte three weeks ago as fighting between Libya's new regime and Kadhafi's diehards turned ferocious.
"When I left my home I took supplies that lasted until now, but since two days we have nothing. Our children are hungry and have no milk or proper food to eat."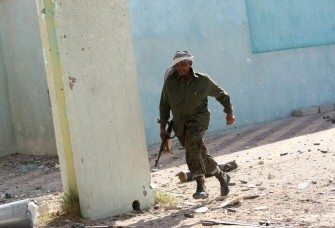 A Libyan National Transitional Council (NTC) fighter runs during a street battle against loyalist forces in central Sirte on October 16, 2011.
Hamid said he fled Sirte after the Sirte post office where he used to work was bombed and his family was evacuated by a group from the International Committee of the Red Cross.
He and his family have since stayed with relatives in a village east of Sirte, but several others standing in the queue for their turn to receive food packets said they were camping in the desert.
Abdul Hafid, a 55-year-old resident of Sirte, said he was sleeping in a tent several miles (kilometres) away from the city where he had lived comfortably for more than a decade.
"We had to leave when the fighting became intense. I took whatever I could and am now staying in a tent under the sky. I have seven members to feed in my family," said Hafid, dressed in a traditional Arabic dishdasha.
"I heard they were giving away food here so I came. I hope to get enough to feed my family for a few days."
The food packets were being distributed by an NGO from the city of Al-Marja, around 100 kilometres (60 miles) east of Benghazi, which became the main base of the anti-Kadhafi revolt that broke out in mid-February.
Sacks of flour, tomatoes, potatoes, onions, packets of biscuits, cheese, coffee, tea, Cerelac baby food, and milk and water bottles filled the house from where volunteers were distributing them.
"We check their passports or identity cards to see if they are from Sirte and then give them what they need depending on the number of people in their families," said Yasser Shagluf, a volunteer supervising the distribution.
"Some people have no identity cards, so we just give them what they need. We know only the needy come here."
Shagluf said the aid being delivered was mostly for the children.
"We have a lot of food for children as they are the main victims of war," he said, as behind him a thin teenager carried off a sack of flour on his back and loaded it in a pick-up.
Sunday's food distribution was his team's second such mission in two weeks.
"We came here last week, but on our way back to Al-Marj we had a car accident and lost two of our volunteers. But the plight of these people made us return despite the danger as fighting still continues in Sirte," Shagluf said.
"Many of them are staying in desert camps, nearby villages, and without water, electricity or basic food for children."
On Sunday, clashes in Sirte were largely sporadic. Kadhafi diehards have put up a stiff resistance against fighters of the National Transitional Council, the new rulers of Libya, for the past month.
NTC fighters have captured most of Sirte, but the Mediterranean city is yet to fall as two neighbourhoods --- Dollar and Number 2 -- are still under the control of Kadhafi loyalists.
The entire city, except the two neighbourhoods, is deserted and almost every building and house has been hit by bullets, rockets or artillery shells.
"It will take a long time for these people to have a normal life again as Sirte is completely destroyed," said Jalal Ambaeya, another volunteer, as more war-weary civilians came in search of food packets.