TRIPOLI, Aug 9, 2011 (AFP) - Three powerful blasts rocked a southwestern district of Tripoli early on Tuesday, sending flames into the night sky, an AFP correspondent in the Libyan capital said.
The explosions in the Fernej district struck at between 1:00 am (2300 GMT) and 2:00 am, he said, and they were followed by a series of smaller blasts, suggesting an arms depot had been hit.
Two other explosions followed at around 6 am.
Meanwhile, Libya's rebel leader sacked the entire executive office of his de-facto government Monday, officials said, in an aggressive move to end a crisis caused by the assassination of a rebel general.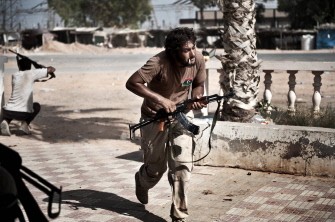 AFP - Libyan rebels come under fire at an intersection beyond Bir Ghanam during fighting with forces loyal to Libya's leader Moamer Kadhafi, 80 kilometres southwest of the Libyan capital Tripoli on August 6, 2011
Mustafa Abdel Jalil, chairman of the National Transitional Council, dismissed several top ministers -- including those responsible for finance, defence and information -- while calling for root and branch reform.
"Mr. Mustafa Abdel Jalil has disbanded the executive office," spokesman Shamsiddin Abdulmolah told AFP, adding that the de-facto prime minister Mahmud Jibril will now be tasked with creating a reformed body.
Another NTC spokesman, Mohamed El-Kish, confirmed the news, adding that some ministers may be reappointed, but "a few will definitely not come back."
It is the latest dramatic phase in the turmoil sparked by the assassination of General Abdel Fatah Yunis -- amid his return to Benghazi under arrest in late July.