A Libyan government envoy has begun a trip to Europe to discuss an end to fighting, but gave no sign of any major climbdown in a war that has ground to a stalemate between rebels and forces loyal to Muammar Gaddafi.
Libyan Deputy Foreign Minister Abdelati Obeidi flew to Athens on Sunday carrying a personal message from Gaddafi to Greek Prime Minister George Papandreou that Libya wanted the fighting to end, a Greek government official told Reuters.
"It seems that the Libyan authorities are seeking a solution," Foreign Minister Dimitris Droutsas told reporters, adding Obeidi was next due to due travel to Malta and Turkey.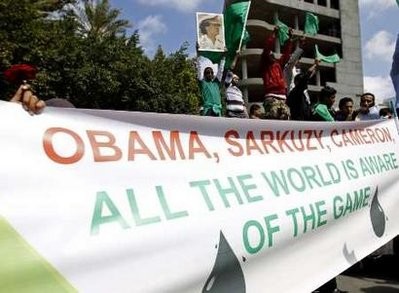 Supporters of Libyan leader Muammar Gaddafi march with a banner denouncing U.S. President Barack Obama, France's President Nicolas Sarkozy and Britain's Prime Minister David Cameron, during a protest against coalition air strikes, in front of the United Nations office in Tripoli April 2, 2011
But there was no indication on what Tripoli might be ready to offer -- beyond a willingness to negotiate -- to end a war that has become bogged down on a frontline in the eastern oil town of Brega, while leaving civilians trapped by Gaddafi's forces in the west.
Underlining the plight of civilians in western Libya, a Turkish ship that sailed into the besieged city of Misrata to rescue some 250 wounded had to leave in a hurry after crowds pressed forward on the dockside hoping to escape.
"It's a very hard situation ... We had to leave early," said Turkish consular official Ali Akin after the ship stopped to pick up more wounded in the eastern rebel stronghold Benghazi.
Turkey's foreign minister ordered the ship into Misrata after it spent four days waiting in vain for permission to dock.
It arrived under cover from 10 Turkish air force F-16 fighter planes and two navy frigates, Akin told Reuters.