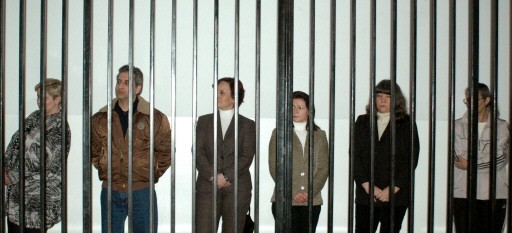 Nasia Nenova, Ashraf Hajjuj, Kristiana Valcheva, Valentina Siropulo, Valia Cherveniashka and Snezhana Dimitrova stand behind bars during a court hearing in Tripoli, February 25, 2007. (AFP Photo)
Libya's top legal body meets on Tuesday to rule on death sentences on six foreign medics convicted of infecting children with the AIDS virus, with a compensation deal for victims set to win them a reprieve.
The medics, who have been behind bars since 1999, were convicted of deliberately injecting 438 children with HIV-tainted blood, but Lagha has said the number of victims has risen to about 460 with several mothers now infected.
The families of Libyan children infected with the AIDS virus said on Tuesday they had started receiving compensation, a move that could result in a reprieve for six foreign medics convicted in the case.
"The families received their cheques overnight and started to cash them this morning," the families' spokesman Idriss Lagha told AFP.
The Kadhafi Foundation involved in mediating a resolution to the case has said the families had agreed to compensation of about one million dollars per child.
A special fund for the AIDS victims was set up by Libya and Bulgaria in 2005 under the aegis of the European Union.
Last week, Libyan Foreign Minister Abdel Rahman Shalgham said the compensation would be paid by "certain European countries and charitable organisations, and from the Libyan state."
He refused to reveal how much money was already in the fund, except to say it ran into "hundreds of millions of dollars."
"The French Le Figaro daily reported on Saturday that some European Union countries could "erase Libya's debt to them to show their goodwill and help advance this case."
But the European Commission, which has already committed 2.5 million euros to the fund, has denied it played any role in the compensation deal.
Source: AFP