AJDABIYA, Libya, April 8, 2011 (AFP) - Libyan rebels regrouped Friday after fleeing an assault by Moamer Kadhafi's forces and coming under apparent NATO friendly fire, as a UN ship packed with supplies arrived in besieged Misrata.
The key transport hub of Ajdabiya, 860 kilometres (535 miles) east of Tripoli was Friday morning firmly in the hands of the rebels, who returned to their posts after fleeing in vast numbers the previous day, an AFP reporter said.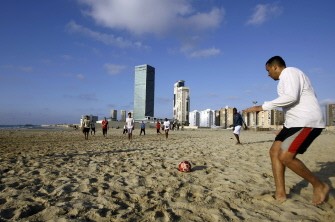 Libyan men play football on a beach in Tripoli on April 7, 2010 as a top US general said today it was unlikely that Libya's rebel forces could launch an assault on Tripoli and oust the regime's leader Moamer Kadhafi. AFP
The town was largely deserted of civilians however, with only a few scattered fighters to be seen.
Fighters manning a checkpoint at the western gate of Ajdabiya said Thursday's panicked flight had been caused by an air strike on a rebel armoured column which killed four and injured 14, as well as the fact that Moamer Kadhafi's forces had landed Grad rockets near the town.
With rumours flying that Kadhafi's forces were at the gates of Ajdabiya, thousands of civilians and some insurgents stampeded out of the town towards the rebel stronghold of Benghazi, some 160 kilometres away.
Rebels Friday indicated the front remained somewhere between Ajdabiya and the oil town of Brega, which is under the control of the loyalists, but could not say where. They refused to let journalists travel towards the front.
A rebel armoured column was hit on Thursday by an air strike near Brega, 80 kilometres west of Ajdabiya, which the rebels blamed on NATO forces enforcing a no-fly zone over Libya.
General Abdelfatah Yunis, the rebel commander, said in Benghazi that four people -- two fighters and two medics -- were killed in the Brega attack, 14 wounded and another six people were missing.
He said it was friendly fire, "carried out in error by NATO," adding that the rebels had informed NATO that they were moving T55 and T72 heavy tanks from Benghazi to Brega.
"We suffered a setback today," he added, but said the rebels have 400 tanks and will get more.
The fighters, already angry at what they perceive to be lack of air support from NATO, which is enforcing a UN no-fly zone over Libya to protect civilians, vented their fury over the strike.
"There was no fighting anywhere nearby. They flew back and forth and then they bombed our forces," said Saleh Faraj, 34, a defected soldier who rode in on one of the pick-up trucks carrying the wounded.
"After they struck there were dead people everywhere. There were pieces of dead people... My friends," said a tearful Amir Mohammed, 20.
"NATO is with Moamer," he muttered bitterly.
NATO on March 31 took over from a US, French and British coalition which had since March 19 been enforcing a UN mandate to protect civilians in Libya. It has said that Kadhafi's air force is completely grounded.
On Thursday the alliance said it was "looking into the specific details of an alleged strike on a column of tanks outside of Brega today."
"The fighting between Brega and Ajdabiya, where the strike occurred, has been fierce for several days. The situation is unclear and fluid with mechanised weapons travelling in all directions," it said.
With little headway being made by the rebels on the battlefield despite the support off NATO airpower, General Carter Ham, head of US Africa Command, said in Washington it was unlikely the rebel forces could launch an assault on Tripoli and oust Kadhafi.
Asked at a Senate hearing about the chances that the opposition could "fight their way" to Tripoli and replace Kadhafi, Ham replied: "Sir, I would assess that as a low likelihood."
His comments underscored growing concern in Washington and European capitals that the conflict is heading toward a stalemate, with Kadhafi firmly in control in Tripoli and badly organised rebels unable to turn the tide.
Besides being routed in the east, the rebels are struggling to defend Misrata, Libya's third city, under an onslaught from better armed regime forces.
The UN announced that a World Food Programme (WFP) ship carrying food, medicines and doctors, arrived late Thursday at Misrata with 600 tonnes of foodstuffs "enough to feed more than 40,000 people for a month."
The WFP also sent two doctors to the city, as well as enough medical supplies from the UN's children's agency UNICEF and the World Health Organisation to cover the urgent needs of 50,000 people for a month.
And a rebel spokesman there said a French ship had arrived carrying medical aid.
Misrata, about 215 kilometres (130 miles) east of Tripoli, has seen fighting for more than 40 days since the start of the uprising against Kadhafi. Doctors said last week that 200 people had been killed there since the fighting began.
Meanwhile, well-placed sources told AFP the Western allies have moved ahead with non-lethal aid after talks with rebel representatives convinced them the insurgency is a bone fide democratic movement.
They were also examining ways to help the Libyan opposition overcome a liquidity crunch and providing "big behind-the-scenes political assistance," the sources said on condition they not be identified.
In Washington, State Department spokesman Mark Toner gave an upbeat assessment.
"We've been encouraged by many of the public statements they've made, as well as what they've said in private, in terms of respecting human rights and also in terms of trying to create a democratic transition that's inclusive," Toner said.
"And I would just add that we're well aware that there's an urgency here, and we're trying to move as quickly, but as prudently as possible," he said.
Concerns of Al-Qaeda infiltration in the rebel movement -- a major initial fear for Washington -- were also comprehensively debunked during the discussions, they said.
Turkey's Recep Tayyip Erdogan said "a real ceasefire (in Libya) should be settled immediately and military units of Kadhafi should remove the siege of some cities and withdraw back."
He also called for the creation of secure humanitarian corridors to allow the delivery of aid to the Libyan people.