Libyan rebels fighting Moamer Kadhafi were set to receive a boost from NATO, with the United States deploying unmanned armed drones as France, Britain and Italy send military advisers.
US President Barack Obama authorized deployment of missile-carrying drone warplanes over Libya "because of the humanitarian situation," US Defense Secretary Robert Gates said Thursday.
Libyan rebels, who on Thursday overran a post on the Tunisian border to mark their first advance in weeks against Kadhafi's forces, have complained that civilians are being killed in places like Misrata.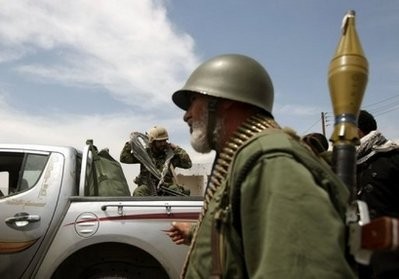 Libyan rebels head to the frontline between the strategic town of Ajdabiya and the town of Brega.
"Our houses are being hit by bombs and rockets," said 45-year-old Ibrahim Issa Abu Hajjar, who fled Misrata with hundreds of civilians aboard a Turkish ferry that docked Thursday in the eastern rebel stronghold of Benghazi.
"We want the allies to stop Kadhafi's forces from taking the city."
Unmanned drones will give NATO commanders precision capabilities to strike targets that are "nestling up against crowded areas," said US General James Cartwright, vice chairman of the Joint Chiefs of Staff.
"Now you have the intermixing of the lines, so it's very difficult to pick friend from foe," Cartwright said. "A vehicle like the Predator (drone) that can get down lower and get IDs helps us."
Their first deployment was slated for Thursday but it was called off because of bad weather.
The capture of Wazin border post Thursday was cheered by several hundred rebels who raised the flag of the Libyan monarchy after between 150 and 200 pro-Kadhafi soldiers abandoned their weapons and fled into Tunisia.
The post is 200 kilometres (125 miles) south of the main Tunisian-Libyan crossing at Ras Jdir.
Rebels have been pinned back by government troops for more than three weeks in eastern Libya and suffered heavy losses in the western city of Misrata, which has been pounded for more than six weeks in fighting which has cost hundreds of lives.
Rebel leaders in Misrata have pleaded for foreign help, saying the air strikes are not enough to dislodge Kadhafi troops hiding in civilian areas and fighting street by street.
France, Italy and Britain have said they would send military personnel to insurgent-held eastern Libya, but only to advise the rebels on technical, logistical and organisational matters and not to engage in combat.
Russian Foreign Minister Sergei Lavrov warned against a Western ground operation in Libya, saying it would be an "extremely risky" action with unpredictable consequences.
Massive Libyan protests in February -- inspired by the revolts that toppled longtime autocrats in Egypt and Tunisia -- escalated into war when Kadhafi's troops fired on demonstrators and protesters seized several eastern towns.
The battle lines have been more or less static in recent weeks, however, as NATO air strikes have helped block Kadhafi's eastward advance but failed to give the poorly organised and lightly-armed rebels a decisive victory.
The capture of the Wazin border post marked the first time since March 28, when rebels swept through towns in the east under cover of allied air strikes, that the outgunned insurgents have made any headway.
The gains in the east were quickly reversed and the rebels were pushed almost all the way back to their bastion in Benghazi.
NATO, meanwhile, warned civilians to avoid areas close to Kadhafi's troops, as it pursues a UN mandate to protect non-combatants while enforcing a no-fly zone over Libya.
NATO's warning came as Libyan official media reported seven civilians killed and 18 wounded in an alliance air raid that targeted the southwestern Tripoli suburb of Khellat Al-Ferjan late on Wednesday.
However, NATO said it had no indication that its raid on the suburb killed civilians, saying the target was a command and control bunker in a military compound.
State news agency Jana said several civilians were also killed in NATO air strikes Thursday on the Libyan town of Gharyan, 90 kilometres (55 miles) southwest of Tripoli. There was no independent confirmation of the report.
Meanwhile, US Secretary of State Hillary Clinton on Thursday called for patience in judging the NATO campaign, comparing it to the 1999 Kosovo intervention that ended up ousting Serbian leader Slobodan Milosevic.
"We've been at this a relatively short period of time," Clinton said. "I would remind you that the United States and other partners bombed targets in Serbia for 78 days." Milosevic was later tried before an international criminal court.