Libya's tribes urged Moamer Kadhafi on Wednesday to cede power, as rebels backed by NATO air strikes said they forced the strongman's missiles out of range of the lifeline port of Misrata.
Chiefs or representatives of 61 tribes from across the North African country called for an end to Kadhafi's four-decade rule, in a joint statement released by French writer Bernard-Henri Levy.
"Faced with the threats weighing on the unity of our country, faced with the manoeuvres and propaganda of the dictator and his family, we solemnly declare: Nothing will divide us," said the statement, released on Wednesday in Benghazi.
"We share the same ideal of a free, democratic and united Libya.
"The Libya of tomorrow, once the dictator has gone, will be a united Libya, with Tripoli as its capital and where we will at last be free to build a civil society according to our own wishes," it said.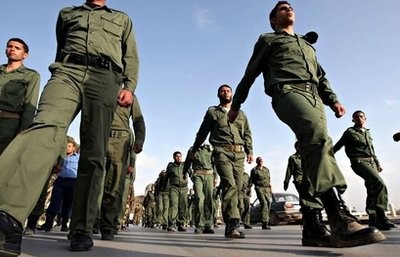 Libyan rebels parade along a seaside promenade in their stronghold of Benghazi.
Levy has become an unofficial spokesman in Paris for the revolt and is credited with pressing President Nicolas Sarkozy to mobilise international political and military support for it.
"Each of the tribes in Libya is represented by at least a representative. In this list of 61 signatures, some tribes are represented 100 percent, others are still divided," he said.
Their call came as rebels said they had managed to push back Kadhafi's forces and secure the port of besieged Misrata, a day after it came under sustained rocket fire.
The insurgents said NATO raids overnight enabled them to force Kadhafi's troops 40 kilometres (25 miles) from the city, which is pressed by regime forces from the east, west and south.
That put Kadhafi's Grad rockets out of range of the port, an aid conduit for rebels in the western city of half a million people under siege for more than seven weeks.
Further west, Kadhafi forces were massed in force in an apparent bid to recapture the Dehiba border post with Tunisia, a Western military source said.
Witnesses said the area was rocked by artillery and mortar fire.
"There is a lot of fire in the area at the foot of the mountains," said a taxi driver at the border, 200 kilometres (125 miles) south of Ras Jdir, the main crossing point into Tunisia that the rebels seized on Thursday.
Security sources in Tunis said Kadhafi fighters tried earlier Wednesday to enter Tunisia at a point south of Dehiba in a bid to sneak up on the rebels, but were stopped by Tunisian forces.
Loyalists also again blasted the western rebel-held town of Zintan with rockets and gunfire as they have been since Sunday, medics and a witness said.
Meanwhile, influential US Senator John McCain said Washington should help arm the rebels, even if the US did not supply weapons directly.
"There is a possibility if not a probability of a stalemate, and that should be of deep concern to us," the former presidential candidate and member of the Senate Armed Services Committee told AFP in Paris.
"The United States needs to recognise the TNC (Transitional National Council) as France and Italy have done. They need to get supplies and equipment into the liberation forces and we need to get American air power back into the fight."
McCain said he remains opposed to sending US ground troops to Libya, but confirmed that he supported sending weapons to the rebels.
"I think we could do the same thing that we did in the Afghan struggle against the Russians. There are ways to get weapons in without direct US supplying," he said, referring to US covert action in the 1980s.
Speaking to AFP before the rebels claimed they drove regime forces back from Misrata, the military spokesman in the rebels' eastern stronghold of Benghazi said Kadhafi was determined to destroy the port.
"This port is too much of a headache for Kadhafi so he wants to destroy it at whatever cost," said Colonel Ahmed Omar Bani, military spokesman of the Transitional National Council (TNC).
Hitting Kadhafi's troops, he said, remained a challenge even for NATO's forces as loyalists were using civilian areas in the outskirts -- schools, shops and farms -- to hide troops and weapons.
"It is still hard for NATO to catch them. Kadhafi is staying far from the centre because it is safe for him," he said, warning that losing the port would be a "real disaster," leaving civilians stranded without aid.
He warned that Kadhafi could take "revenge" on the city that rose up against him on February 19, two days after Benghazi.
"This is the culture of Kadhafi: revenge, revenge, revenge," he said.
Separately, TNC vice chairman Abdel Hafid Ghoqa said the rebels would free five captured Kadhafi soldiers, turning them over to the International Committee of the Red Cross.
He said the rebels are holding 32 Libyan prisoners alongside 72 foreign mercenaries who are still being questioned and will likely face criminal charges before a justice minister once the conflict is over.
Meanwhile, the African Union urged an end to military actions targeting senior Libyan officials and key infrastructure, after Washington and London had said it was legitimate to strike Kadhafi's compound, as NATO did two days ago.
And Kadhafi's chief ally in Latin America, Venezuelan President Hugo Chavez, accused NATO of trying to kill his "friend."
On Tuesday, US Defence Secretary Rober Gates and British Defence Secretary Liam Fox insisted command centres for the regime's forces were legitimate targets.
"We have considered all along command and control centres to be a legitimate target and we have taken those out elsewhere," Gates said.
Fox agreed and said "as long as that government continues to target civilians ... we will continue to regard all their command-and-control mechanisms as legitimate targets."
Tripoli said late Tuesday it had asked Russia to convene an urgent meeting of the UN Security Council over what it called an "assassination attempt" on Kadhafi when the NATO raid destroyed his office on Sunday night.
Italy, Libya's former colonial ruler, said Wednesday it will arm eight of its planes for NATO-led military operations against the Kadhafi regime, while Bulgaria Bulgaria sent a naval frigate to participate in a NATO operation to enforce an embargo on weapons destined for the Libyan regime.
And NATO allies agreed to establish a civilian post in Libya's eastern rebel bastion of Benghazi in an effort to step up political contacts with the opposition, an alliance source said.
The representative would likely be a diplomat from a NATO country that already has a presence in the rebel capital.
As the United States and its allies pondered how to help the rebels, US President Barack Obama formally ordered a drawdown of $25 million (17 million euros) in urgent, non-lethal aid to the Transitional National Council.
UN Secretary General Ban Ki-moon said Kadhafi's regime "has lost both legitimacy and credibility, particularly in terms of protecting its people and addressing their legitimate aspirations for change."