SYDNEY, March 26, 2011 (AFP) - Australia's Opera House was the first of many global landmarks to go dark on Saturday as "Earth Hour" got underway with hundreds of millions of people around the world set to switch off their lights.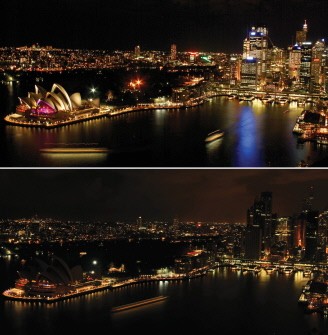 AFP - This combo shows the lights around Sydney's Harbour and the iconic Opera House (L) taken on March 23, 2011 (top photo) and on March 26, 2011 as the city switches off its lights to mark "Earth Hour".
The Eiffel Tower in Paris and the world's tallest building in Dubai will also have their lights turned off for 60 minutes as part of the remarkable event in which people reflect in darkness about how to fight global warming.
"The amount of power that's saved during that time is not really what it's about," Earth Hour co-founder and executive director Andy Ridley told AFP in Sydney, where the movement began in 2007.
"What it is meant to be about is showing what can happen when people come together."
Ridley said a record 134 countries or territories were on board for the event, which organisers have dubbed the world's largest voluntary action for the environment.
Other landmarks that will go dark for the hour are Times Square in New York, Beijing's "Bird's Nest" stadium that hosted the 2008 Olympics, the London Eye and Brazil's Christ the Redeemer statue.
The lights will be turned off from 8:30pm local time around the world.
The event kicked off in the Pacific, Fiji, New Zealand and Australia, and was then set to roll into Asia, Europe, Africa and the Americas as it followed the descending sun.
In Australia, organisers said an estimated 10 million people, nearly half the population, took part, with the Sydney Harbour Bridge another of the landmarks to go dark.
Originally designed as a symbolic act to make people aware of everyday energy use, organisers this year asked people to also commit to an action, large or small, that they will carry through the year to help the planet.
As part of the longer-term commitment, Dalian city in northeastern China will spend 1.5 billion dollars planting 340 million trees and Chengdu city in the southwest will make up to 60,000 bicycles available for public rental.
Ridley said Earth Hour, organised by global environment group the WWF, this year would also focus on connecting people online so they could inspire each other to make commitments to help protect the environment.
Nearly 600,000 people had "liked" Earth Hour's official Facebook page by the time the event began in the Asia Pacific, while hundreds of Tweets with the #earthhour hashtag were appearing on Twitter every few minutes.
In Japan, reeling from a huge earthquake and tsunami that struck this month, several thousand people and a hotel-turned-evacuation centre in the northeast were expected to mark Earth Day.
"People in Japan will have a special feeling this year when they turn the switches off," WWF spokeswoman Hideko Arai told AFP.
"We will not only think about climate change but also the people who need energy in the disaster-hit areas," she said. "We want to show our support for disaster victims."
The March 11 twin disaster has left more than 27,000 people dead or missing and hundreds of thousands more homeless, sheltering in emergency facilities.
United Nations Secretary General Ban Ki-moon backed Earth Hour, urging people to celebrate the shared quest to "protect the planet and ensure human well-being".
"Let us use 60 minutes of darkness to help the world see the light," he said.
British Prime Minister David Cameron said sharing responsibility was the key to fighting climate change, describing Earth Hour as "a huge symbol of global solidarity, an inspiring display of international commitment".
Ridley said he never expected the Earth Hour movement to become so large.
"We didn't imagine right at the beginning... it would be on the scale that it is now. And the fact that it is so cross cultural, beyond borders and race and religion," he said.