HONOLULU, Hawaii, Dec 29, 2009 (AFP) - President Barack Obama on Tuesday learned of new intelligence data suggesting some "linkage" between Al-Qaeda and the thwarted bombing of a US airliner by a young Nigerian, a senior US official said.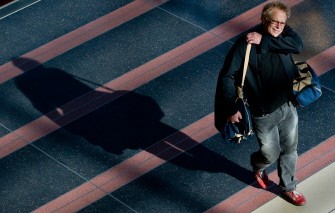 A passenger walks to a security checkpoint prior to departing from Ronald Reagan Washington National Airport in Arlington, Virginia, just outside Washington, DC, on December 29, 2009.Security measures have been heightened at airports after a Nigerian man attempted a terrorist attack on a Northwest Airlines flight on Christmas Day in Detroit (AFP photo)
But the official stressed that there was no reason to think the attempt to blow up a Northwest airlines jet was part of a wider series of planned attacks, and would not conclusively link the incident to Osama bin Laden's group.
Senior aides traveling with Obama in Hawaii learned late on Monday of intelligence that was available to the US government before the attempted attack which may have helped prevent it, the official said.
The New York Times, citing two unidentified officials, said the US government had intelligence that leaders of an Al-Qaeda branch in Yemen were discussing "a Nigerian" who was being prepared for a terrorist attack.
The officials said the information did not include a name, the Times reported.
The official who spoke to AFP refused to validate Al-Qaeda's claim that it planned the attack by 23-year-old Umar Farouk Abdulmutallab who tried to ignite explosives concealed in his underwear as the plane approached Detroit.
"I am not in a position to suggest that we know conclusively that they planned it," the official said, on condition of anonymity.
"Some of the new information that we have developed overnight does suggest that there was some linkage there."
The official added that the new data on the attack was "in some instances about the individual in question and plans, some of it was about Al-Qaeda and its plans. Some of it was about potential attacks during the holiday period."
The official stressed that though the information was not complete, it could have helped foil the assault.
If the data had been "assessed and correlated" it could "have led to a much broader picture and allowed us to disrupt the attack or certainly to know much more about the alleged attacker."
Al-Qaeda's Arabian peninsula operation claimed the failed December 25 bombing of the Northwest jet in a statement picked up by US monitors Monday.