Stuck. That is verdict on the US jobs market expected in a key government report to be released on Friday, spelling yet more pain ahead for the ranks of America's unemployed.
The Labor Department's monthly employment data is expected to show that while the economy is past the ravages of the financial crisis, it is still hibernating amid the fallout.
Economists expect the report to say that the unemployment rate was still jammed at a painfully high 9.1 percent in September, with the economy replacing just 60,000 of the nine million jobs lost during the crisis.
"Jobs-related indicators taken together suggest that underlying payroll growth remained lackluster," said economists at RDQ Economics offering a typically bleak view of expectations based on a rash of news this week.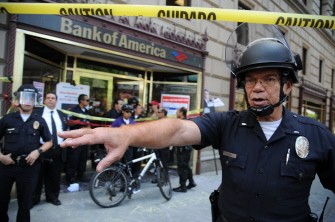 Police keep protestors back outside a Bank of America branch in downtown Los Angeles October 6, 2011 during an anti-Wall Street demonstration. At least 10 protestors werre arrested after they entered the bank branch and refused to leave.
As frustration grows at the country's inability to right the economic course, the report is also expected to show that private firms hired only modestly while there were renewed layoffs in local governments amid cost cutting.
In Washington, as all minds turn to the 2012 presidential election, Barack Obama stepped-up his effort to pass a $447 billion jobs bill which he said could create 1.9 million posts and could act as a pressure valve on growing anger.
The growing frustration among Americans was evident on the streets of many cities this week as the Occupy Wall Street movement transformed into a coast-to-coast phenomenon.
The president on Thursday argued that the eurozone crisis made it even more important for Congress to pass his jobs plan, which he said would give a "jolt" to the sickly economy at a time of dangerous external threats.
"The problems Europe is having today could have a very real effect on our economy at a time when it's already fragile," Obama said.
"This jobs bill will help guard against another downturn if the situation in Europe gets any worse," Obama said in his first formal news conference since unveiling the plan last month.
But experts blamed domestic concerns as well as external for the malaise.
"There is no denying that businesses are rather tentative, concerned about a variety of risks," said Stephen Stanley of Pierpont Securities.
"The prospect of a fiscal meltdown in the United States, the array of regulatory threats currently facing firms, the specter of a damaging fiscal and/or financial crisis in Europe, and a generally anemic economic landscape here."
"In such an environment, businesses are going to be unusually cautious in their hiring strategies."
According to a private sector survey released Wednesday, private sector firms created a paltry 91,000 jobs last month.
"Like August, this month's jobs report continues to show modest job creation," said Gary Butler, the head of payrolls company ADP, which produced the report.
Although it is often difficult to draw a straight line between ADP's reports and Friday's key government report, economists said recent news did not portend stellar jobs growth.
The ADP report does not include government payrolls, which have been steadily shrinking as local authorities shed positions to cut costs.
Ian Shepherdson, chief US economist with High Frequency Economics said the data pointed to a familiar picture of modest job creation in the private sector being eroded by public-sector cuts
"We think this report is consistent with Friday's number coming in at about 50,000 (jobs created during September), comprising 100,000 private and -50,000 government jobs."
That would still be better than August's stunning number: zero net jobs created, with 17,000 new private-sector jobs offset by 17,000 shed in government.
But a pickup to 50,000 net new jobs would be less than half that needed just to keep up with population growth, much less bring down the jobless rate.
Pessimists received further support from other data released Wednesday.
Outplacement firm Challenger, Gray & Christmas said that employers last month announced plans to shed 115,730 workers from their payrolls, "the worst job cut month in over two years."
The firm reported "heavy reductions" in the military "signaling what may lie ahead as the federal government seeks across-the-board cuts in spending."