The rescue work was under way while half of the huts and bungalows had collapsed and dozens of villagers were killed in a northeastern Myanmar village, said Liang Chunsheng, a Chinese-Thai who entered the disaster zone earlier the day.
Liang, a tourist guide, entered Tarley, a village about 60 km north of Mae Sai, in the morning with a Myanmar charity group. He said Tarley was "practically destroyed", with about 70 villagers killed or missing in the major 7.0-magnitude quake that hit northeastern Myanmar Thursday night.
A Myanmar official said 74 people were killed and 110 were injured in five areas close to the epicentre. More than 240 buildings had collapsed.
"The rescue teams managed to patch the roads toward Tarley and lots of troops, volunteers and charity organisations have arrived, " said Liang. He mentioned, however, all the rescue teams were domestic ones, as the government had not accepted the international assistance yet.
Some injured Burmese had been sent to the Mae Sai hospital, which was larger and better-equipped than Myanmar hospitals, said Liang.
An anonymous doctor at the hospital told Xinhua that 16 Burmese had been admitted here during the past three days, but 15 of them, with severe injuries, were transferred to the hospitals in Chiang Rai.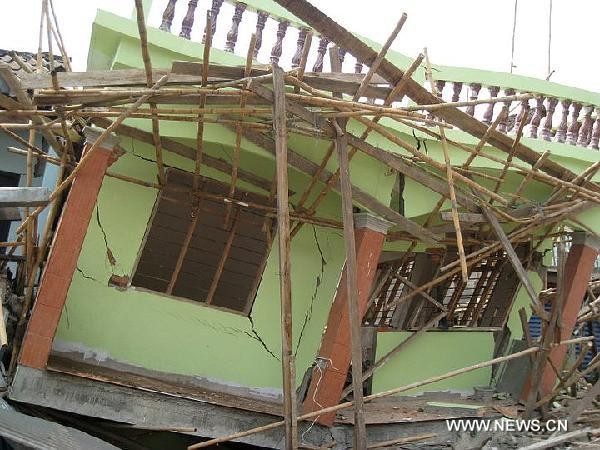 A damaged house is seen in Tarley, Myanmar, March 25, 2011
Tarley, with more than 200 households, was one of the most populated areas around the epicentre, said Liang, who was still in shock at what he saw in the morning.
"Many villagers were crying for their lost, the destroyed houses and the dead relatives. They had enough of food and drinking water, but the trauma will be unbearable for lots of them, " said he.
The villagers didn't know what they should do to restart their life, which had been totally ruined by the earthquake, he said.
The rescue teams were devoted to the disaster relief work, but they don't have enough equipment and most of the work had to be done with bare hands and spades.
"I hope the local people can recover from the disaster soon, mentally, physically and economically, " said he.