LOS ANGELES (AFP) – Troubled US starlet Lindsay Lohan is due back in court Thursday for breaching probation after failing an alcohol test while already on home detention, officials and reports said.
A court hearing will determine if Lohan, currently serving 35 days of home custody with an electronic ankle bracelet, breached the terms of her probation for a 2007 drunk driving incident, the LA District Attorney's office said.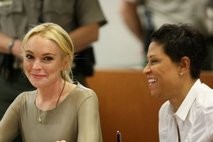 AFP File picture shows Lindsay Lohan with her lawyer Shawn Chapman Holley (R) at a court proceeding in LA
DA office spokeswoman Sandi Gibbons said she did not know the exact nature of the alleged violation, but the TMZ celebrity news website said it was because Lohan tested positive for alcohol in the past week.
TMZ said one of two tests on Lohan was conducted shortly after she hosted a rooftop barbecue, and the website cited sources as saying that LA County Probation Department officials will ask Thursday that she be sent to jail.
Lohan's publicist Steve Honig, when asked whether she had been summoned to court, replied: "I'm neither going to confirm nor deny."
The 24-year-old began her home detention on May 26 as part of a plea bargain over the alleged theft of a $2,500 necklace from a jewelry shop near her home in Venice Beach.
Lohan had already spent a few hours in jail in April, after a judge ruled that she had violated her probation for a 2007 drug and drunk driving offense, when she allegedly stole the necklace on January 22.
It is the latest in a long list of legal tangles for Lohan -- once the promising child star of hit Disney movies "The Parent Trap" and "Freaky Friday" -- who has a reputation for hard partying.
In July of last year Lohan was sentenced to 90 days in jail and another 90 days in rehab for violating her probation in a drunk driving case, but served just 13 days due to prison overcrowding.
She was jailed again in September, but was granted bail after only 15 hours behind bars and subsequently checked into rehab for drug addiction, a course she completed in January.
In 2007, she spent just 84 minutes in jail after police arrested her twice for cocaine possession while driving -- in one instance she crashed her Mercedes-Benz into a tree.