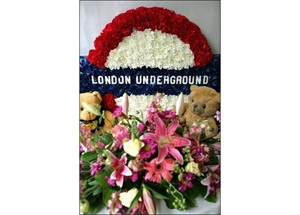 A floral wreath made in the London Underground logo sits inside Russell Square station in London, 4 August 2005, on the day it reopened after the 7 July bombings
A charity fund set up following the July 7, 2005, suicide bombings in London was shut down after handing out 12 million pounds (18 million euros, 22 million dollars) to victims.
But the closure of the London Bombings Relief Charitable Fund (LBRCF) came as a results of a survey suggested that none of Britain's major cities, including the capital, was fully prepared for a full-scale disaster.
Winding down the fund, LBRCF chairman Gerald Oppenheim said: "We leave behind the experience we have gained and details of what we did.
"I hope it will not have to be called on again, in London or anywhere else, but sadly that may not be the case in view of events around the world.
"We hope that donors, supporters, well-wishers and beneficiaries feel we have acted speedily and compassionately and that we have used the money well."
The fund -- a registered charity -- was set up in the wake of the rush hour attacks on London's public transport system, which left 56 people dead, including the four extremist Muslim bombers, and injured more than 700.
Grants from public donations were made to victims of the bombings or relatives of the bereaved in addition to awards available from the government-run Criminal Injuries Compensation Authority (CICA).
Two grants totalling 151,000 pounds went to the 7th July Assistance Centre, which was created to help victims and their families with counselling, therapy and access to other services.
The size of the awards, particularly from the CICA, was criticised by some in comparision with those made by the US administration after the September 11, 2001, attacks.
Families of those who died there received on average two million dollars each.
The Reader's Digest survey of 10 high-risk cities assessed how prepared they were to deal with a major natural disaster, terrorist attack, industrial accident or pandemic.
Emergency planning was found lacking in at least one respect in all of the cities, including poor communications between emergency services -- a key finding of one of several reports commissioned after the July 7 attacks.
London, which was second in the assessment behind the central English city of Birmingham, scored poorly on police capacity to cope with emergency calls and a shortage of acute hospital beds.