Millions of London commuters were deciding whether to travel to work by boat, bike or on foot Wednesday as staff on the Underground train network staged their latest 24-hour strike.
Following earlier action in September and October, workers began walking out late Tuesday during the rush hour in protest at plans to axe 800 jobs.
But the most severe disruption is expected during Wednesday's early rush hour as commuters battle to make it to work.
Transport for London will lay on 100 extra buses and more boats to allow 10,000 extra river journeys.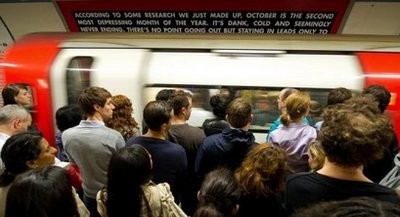 Commuters are seen queuing to get on an underground train in central London.
Mayor of London Boris Johnson said people in the capital "will not be deterred from their daily business by these pointless strikes."
Services are not set to return to normal until early Thursday. About 3.5 million Underground journeys are made on a normal weekday.
Union leaders -- who plan another stoppage at the end of November -- say the job cuts will affect safety and accused Johnson of dropping a pledge to keep Underground stations properly staffed.
Bob Crow, the leader of the Rail Maritime and Transport (RMT) union, said Underground workers had last week been commended at an inquest into the July 2005 bombings on the London transport system "yet among them are the very grades that the mayor is now intent on cutting."
Unions claim that although the majority of the jobs to be cut are in ticket offices, the staff contribute to the general security of Underground stations.
The planned job cuts come amid an austerity drive in Britain, where the coalition government last month announced average spending cuts of 19 percent across departments.
BBC journalists and London firefighters are both set to stage strikes Friday and Saturday, while the firefighters also held an eight-hour walk-out on Monday.