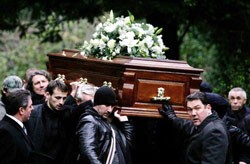 A coffin bearing the remains of former Russian spy Alexander Litvinenko is prepared for burial at Highgate Cemetery in north London, Dec. 7,2006 (AFP Photo)
The focus of a police probe into the death of a former Russian spy shifted towards a central London hotel Friday after seven staff tested positive for radiation contamination.
The staff, all bar workers, were on duty in the Pine Bar of the Millennium Hotel in the upmarket Mayfair area on November 1, the day Alexander Litvinenko met three Russian contacts there before falling ill.
Public health officials said Thursday the staff were not suffering any short-term symptoms of polonium 210 poisoning, but faced a small, long-term increase in their chances of developing cancer.
Contamination through polonium 210, a highly radioactive isotope, comes via ingestion, inhalation or transfer through a wound, sparking widespread speculation in the British media about how bar staff came into contact with the isotope.
The Times said Friday it could have been inhaled from vapour evaporating from a contaminated drink or ice cube or by breathing in poisoned cigarette smoke.
The chief executive of the Health Protection Agency, Professor Pat Troop, refused to speculate on the possible causes at a news conference Thursday.
But she said: "You can breathe it in if there are large volumes of it around. But the amount you would take in that way would be very small."
Philip Day, a fellow of Britain's Royal Society of chemistry and reader in environmental chemistry at the University of Manchester in northwest England, said the amounts of polonium in tobacco smoke are normally "trivial".
"The sort of things we're hearing about the various amounts of polonium in various workers is much greater than you could have got from smoking normally," he said.
But he rejected the theory of inhaling vapour from a contaminated drink.
Instead, he suggested there was a "common route", perhaps from a liquid aerosol in the bar or dust, but that would not be guaranteed to hit a specific target.
One of the three men Litvinenko met in the bar -- private security agent Dmitry Kovtun -- has also been found to have an illness related to "poisoning with a radioactive nuclide", Russian officials revealed Thursday.