Prime Minister Gordon Brown suffered a crushing election "bloodbath" Saturday, as his party lost control of London's City Hall on top of its worst poll results for 40 years across the country.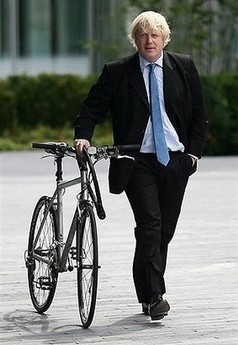 Newly elected mayor of London Boris Johnson is seen in this 2007 picture. Prime Minister Gordon Brown suffered a crushing election "bloodbath" Saturday, as his party lost control of London's City Hall on top of its worst poll results for 40 years across the country.(AFP/File/Chris Young)
London Mayor Ken Livingstone was ousted by maverick conservative Boris Johnson, compounding a day of devastating local ballot results for Brown's Labour Party which augur badly for a general election due within two years.
Some commentators called the poll Brown's "John Major moment" -- likening his fate since succeeding Tony Blair last year to that of Major's collapse at the ballot box after succeeding Margaret Thatcher in the 1990s.
Brown admitted that the losses, in local elections in England and Wales as well as the London City Hall race, sent a sobering message.
"This has been a disappointing night, indeed a bad night for Labour," Brown said, linking the effects of the global credit crunch to the centre-left party's defeat.
"We have lessons to learn from that and then we will move forward."
Labour finished third behind the Conservatives and the Liberal Democrats, the BBC's results showed, 11 years to the day since Brown's predecessor Blair swept into office on a landslide of popularity.
Conservative leader David Cameron said the results were "a very big moment" for his party, while some commentators suggest its strong showing could be a springboard to victory in a general election which must be held by mid-2010.
The front page of London's Evening Standard newspaper read "Bloodbath for Brown," while the Daily Mail called it "Black Friday."
Saturday's newspaper headlines summed it up: "Meltdown for Brown," said the Telegraph; "Brown's long, bloody Friday" from the Guardian; the Independent had "The May Day Massacre," while the Express simply said "Brown and Out"
The London defeat was the most high profile blow.
Livingstone, famous as "Red Ken" from his far-left days in the Thatcher era, had won international plaudits for his management of the city over the last eight years, including introduction of the pioneering congestion charge.
Six months ago he seemed set for a smooth re-election for a third term -- but the surprise candidature of Johnson, an eccentric former journalist and television game show star, electrified the London contest.
A cronyism scandal this spring hit his poll ratings badly, and Johnson's rise was fueled by the growing wave of unpopularity directed at the Labour Party nationally.
The colourful Tory, whose victory was confirmed early Saturday, said in his victory speech that he hoped the result "does show that the conservatives have change as a party that can again be trusted."
In the wider local polls, held only in England and Wales, the other parts of the United Kingdom operating separate political systems, the Conservatives had a 44 percent projected share of the vote, the Liberal Democrats 25 percent and Labour 24 percent, the BBC said.
With results from all 159 local councils counted, the Conservatives controlled 12 more at 65, Labour lost control of nine to leave 18, and the Liberal Democrats were up one at 12.
Worryingly for Brown, Labour lost seats in key heartlands such as south Wales, while the Conservatives made gains beyond their southern England powerbase.
Senior government ministers insisted Brown was still the best man for the job, in number 10 Downing Street. However, disgruntled backbenchers were more outspoken.
Labour MP Derek Wyatt said: "Gordon has committed spectacular own-goals and the public is punishing him for it."
Fellow backbencher Ian Gibson said Brown was running out of time to prove he could turn things around.
"I'll give him six months to do it or there will be really hard talking," he warned.