The vice chairman of South Korea's fifth-largest conglomerate Lotte Group was found dead Friday, police said, in an apparent suicide that occurred while he was waiting a summons by prosecutors over corruption allegations involving the group, Yonhap's journalist said.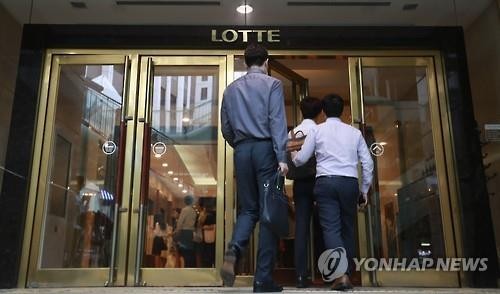 Employees enter a Lotte Group office building in downtown Seoul on Aug. 26, 2016. The conglomerate's vice chairman, Lee In-won, was found dead earlier in the day in an apparent suicide, just hours before he was to appear for prosecution questioning over the conglomerate's suspected illegal business activities. The prosecution expressed its condolences and said it will review future investigation plans. (Yonhap)
Police found the body of Lee In-won, the group's No. 2 man and close aide of Lotte chairman Shin Dong-bin, on a trail in Yangpyeong, 55 kilometers east of Seoul, after receiving a report from a local resident at around 7:10 a.m. that a man in his 60s is hanging from a tree.
The police said they found Lee's identification on his clothes and are examining the scene, including his car found near the site of the incident.
In a four-page suicide note found in his car, Lee addressed his family, as well as executives and staff members of the group, while expressing loyalty to the group chairman Shin and denying the group's slush funds allegations.
Lee, who lives in central Seoul, did not return home after going out at around 9 to 10 p.m. on Thursday, according to the bereaved family. He said he was going out for a workout, they said.
Joining Lotte in 1973, Lee became the first to take a position as the group's vice chairman besides the owner family in 2011.
The 69-year-old was to be summoned by prosecutors at 9:30 a.m. on Friday as a suspect facing charges of a breach of trust and other unlawful activities that have rocked the business conglomerate.
Lee was suspected of playing a critical role in the group's alleged tax evasion worth hundreds of billions of won, some billions of won of slush funds creation and other allegedly shady deals between the group's affiliates.
State prosecutors have been widening their probe into the retail giant after launching a full-fledged raid in June, followed by a series of summons of its executives.
Late last month, Shin Young-ja, the Lotte Foundation chief and daughter of the group's founder, was detained and indicted over alleged bribery and embezzlement.
The prosecutors expressed regret over Lee's death, saying they will coordinate the schedule of the future investigation.
A senior representative at the law firm Kim & Chang, which is in charge of legal representation of the group, said the deceased was planning to attend the summons, adding they had discussions with Lee over the issue on Thursday.
The official, who asked not to be named, said they will further discuss with the group how to deal with the situation.
In South Korea, it is not rare for a high-profile suspect to commit suicide when undergoing an investigation.
Last year, local businessman Sung Wan-jong committed suicide after leaving a note suggesting that some of President Park Geun-hye's aides took bribes from him, including her now-retired Prime Minister Lee Wan-koo. Sung was found dead just hours before he was set to attend a trial to determine the legitimacy of his arrest.
Former President Roh Moo-hyun jumped off a cliff to his death behind his retirement home in 2009, a year after leaving office, amid a prosecution investigation into allegations that his family members accepted illicit funds.