Bernard Madoff claims he ran his multi-billion dollar Ponzi scheme alone, but close family members face lawsuits this week in a widening probe, the government-appointed trustee told CBS television.
Trustee Irving Picard and his chief lawyer David Sheehan told CBS's 60 Minutes program that Madoff relatives and many so-called victims profited massively.
For example, Madoff's immediate family used the fraudulent investment firm "like a personal piggy bank," Sheehan said, while major investors earned billions of dollars -- possibly in full knowledge that this was a scam.
"We've found that there have been quite a few people who have gotten out more than they put in," Picard said.
Lawsuits are expected to be filed by the trustee this week against Madoff's sons Mark and Andrew, his brother Peter and niece Shana, CBS reported.
The suits are part of a legal onslaught stretching far beyond Madoff, who is serving the first months of a 150-year prison sentence.
Picard is charged with finding where Madoff's billions vanished so that genuine victims -- some left penniless after entrusting everything to the fraudster -- can be compensated.
Just before his arrest and the collapse of his pyramid scheme in December last year, Madoff sent clients a statement claiming his fund was worth about 64.8 billion dollars.
Picard and Sheehan, who rarely talk directly to the media, estimate the scheme in reality contained 36 billion dollars. They say half of this was disbursed before the collapse, while the other 18 billion dollars disappeared.
So far, Picard has snared just 1.5 billion dollars, including revenues from such easy targets as luxury residences in Manhattan, Long Island and Florida kept by Madoff and his wife Ruth.
But now the focus is tightening on Madoff's inner circle.
CBS reported that Picard's team found Madoff's sons and brother took out 80 million dollars in salaries over the last seven years, while Ruth spent millions of dollars from company funds for shopping and other extravagances.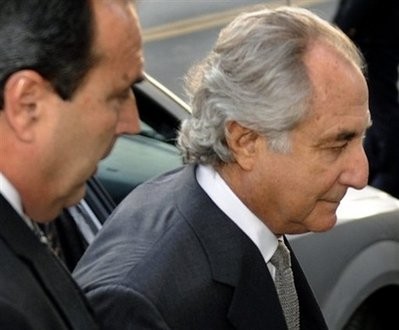 File photo of disgraced Wall Street financier Bernard Madoff arriving at a US Federal Court.
Family members were also investors in Madoff's fake company, raking in fantastic returns, CBS reported. Mark and Andrew, for example, withdrew more than 35 million dollars from accounts opened with almost no original investment.
"Whether or not they have a criminal problem we will pursue them as far as we can pursue them," Picard warned. "If that leads to bankrupting them -- then that's what will happen."
Madoff's family deny complicity, as do the thousands of people who put money into the fund, then received steady returns from what they were told were legitimate investments, but in fact was money stolen from fellow investors.
Sheehan said the family was too close to Madoff's daily work not to have known about the scam.
"My belief is, yes, they knew, and the reason I believe that is they were officers of this -- of these companies, and directors in certain instances as well, and also compliance officers in a very highly regulated environment."
"Clearly they would have to have known what was going on given their own personal transactions, the longevity of what was happening, and the responsibilities as officers," Sheehan said.
Also in the cross-hairs are many of those investors who say they lost money with Madoff.
Some, the officials say, will not only fail to be reimbursed, but may have to pay back profit made during the decades that Madoff's fraudulent business went undetected.
Picard said about half of Madoff's clients received more in returns than they invested originally, making them beneficiaries, not victims.
"At the end of the day, they were in a Ponzi scheme, unfortunately for them. So, all they get (in compensation), at best, is what they put in," Sheehan said.
The trustee's main targets, though, are the heavy hitters who, Sheehan says, "knew exactly what was going on -- and participated in it."
One of those being sued is billionaire investor and philanthropist Jeffry Picower, whose statements from Madoff indicated an astonishing 950 percent return on his investment, amounting to billions of dollars in profits.
"This is a very, very sophisticated guy. He gets a statement like that -- that's off the charts. He doesn't know anything about that?" Sheehan asked.
Another big investor facing a lawsuit, Stanley Chais, withdrew more than a billion dollars in profits from his Madoff account. Both he and Picower deny wrongdoing.
Madoff's high rolling wife Ruth has already been brought to heel.
CBS said she has to report to the trustee any time she spends more than 100 dollars. "She's living very modestly," Picard said.
Sheehan said ultimately the blame should be spread wide.
"I think, as everyone, you know, was participating in this, and just feeding at this trough of greed," Sheehan said.
"What they were looking for was it to continue. They were hoping it was never going to end."