Court documents show that Bernard Madoff and his wife Ruth lived a life of high luxury, with exclusive homes, yachts and other assets worth 823 million dollars.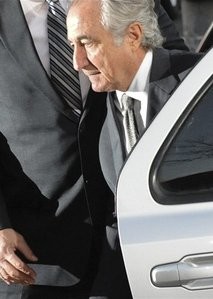 Bernard Madoff arrives at Manhattan federal court Thursday, March 12, 2009, in New York.
The revelations came in documents filed with the US Court of Appeals due March 19 to hear Madoff's appeal to be granted bail. He was jailed on Thursday after pleading guilty to a multi-billion-dollar investment fraud.
The documents, filed by Madoff's lawyer Friday, show the Wall Street con man and his wife had 22 million dollars worth of real estate at the end of 2008.
This includes the seven million dollar Manhattan apartment where Madoff lived from his arrest in December to Thurday's court hearing, when he pleaded guilty to 11 counts including fraud, perjury, money laundering and theft.
Lawyers for Madoff, 70, argue he should be allowed back there on bail while he waits for his June 16 sentencing hearing. He is expected to receive to a lengthy prison sentence, with a maximum term of 150 years.
In addition to the apartment, the Madoffs had a one million dollar house in exclusive Cap d'Antibe in the south of France, another in New York state, and an 11 million dollar house in Palm Beach, Florida.
Aside from the real estate, the disclosure lists nearly 10 million dollars' worth of furniture and art, and a seven million dollar yacht named "Bull" in France, complete with its own 1.5 million dollar slip.
Long known for lavish tastes, the Madoffs are revealed to have owned 2.6 million dollars in jewelry, a 39,000 dollar Steinway piano and 65,000 dollars worth of silverware in their New York apartment alone.
Madoff's documents show a 700 million dollar value on his disgraced investment business. Madoff claimed in court Thursday that although his personal investment advisory business was crooked, the trading branch of his firm was legitimate.
Most of the real estate and many other assets are said to be owned exclusively by Ruth Madoff.
Lawyers have sought to separate her from Madoff's interests as his thousands of victims and prosecutors ramp up efforts to retrieve the money he stole over at least two decades.
Thursday's hearing, in which Madoff admitted his guilt and apologized for his crimes, was the first time he spoke at length in public since his arrest on December 11. Ruth Madoff has also remained silent.
The details in the legal documents regarding the couples' wealth follow months of lurid speculation in tabloid newspapers about how Madoff spent his ill-gotten gains.
In a list of monthly expenses, Madoff says he paid out a modest 200 dollars a month in medical fees, with 250 dollars for doctors' visits.
No more than 70 dollars a month went on entertainment at the New York apartment.
But in other areas, the Madoffs did not spare their expenses. Tens of thousands of dollars are spent at their various houses on security and they list paying 3,448 dollars a month just to maintain the Florida yacht.
The vessel's skipper is paid 5,250 dollars -- less than the 5,600 paid monthly to the captain of the yacht in France.
Life couldn't have been more different for Madoff since Thursday.
He is detained in an eight-by-seven-and-a-half foot (2.43-by-2.28-meters) cell at the Metropolitan Correctional Center in downtown Manhattan.
If the bail appeal fails he will stay there until sentencing.
Meanwhile, federal investigators are examining who helped him perpetuate the "unprecedented" Ponzi scheme.
Family members, including wife Ruth, are widely believed to be likely to face questioning, although none on them have been charged.