A court in China Tuesday sentenced the "godmother" of an organised crime gang to 18 years in jail after a sensational trial which gripped the nation with lurid tales of sex and corruption.
The ruling by a municipal court in Chongqing was the latest in a series of trials stemming from a huge crackdown on the underworld in the southwestern city of more than 30 million.
"Godmother" Xie Caiping, 46, allegedly ran 20 illegal gambling dens in hotels, nightclubs and tea houses, was involved in illegal drug activity, and bribed police to turn a blind eye to her crimes, earlier press reports said.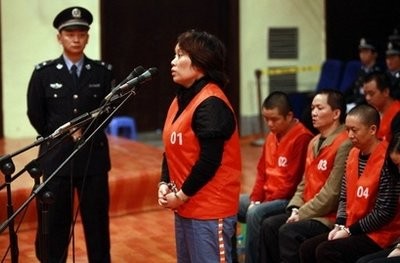 Xie Caiping (C), an alleged gang godmother, testifies during a trial in the southwest Chinese city of Chongqing, October 14.
Xie, who reportedly drove a Mercedes-Benz, owned several luxury villas and kept a stable of 16 young men to provide her with sexual services.
Xie is the sister-in-law of the former head of Chongqing's judiciary, Wen Qiang, who is at the centre of the crackdown. She was also fined 1.02 million yuan (150,000 dollars), said the verdict, posted on the court's website.
Twenty-one other suspects were sentenced along with Xie to jail terms ranging from one to 13 years, the court said.
Luo Xuan, 29, who reportedly was Xie's lover, was sentenced to four-and-a-half-years in jail for his role in the syndicate, it said.
The former vice director of a Chongqing public security precinct, Guo Sheng, and policeman Gan Yong were sentenced to 13 and 12 years in prison respectively for accepting bribes and offering Xie protection, it added.
Last month, courts sentenced six people to death in the Chongqing organised crime trials.
Xie's brother-in-law, Wen, served as a top Chongqing police official for 16 years before taking over the city's judiciary.
He is the highest-ranking official ensnared in the crackdown that has led to the arrest of more than 1,500 suspects. Wen is accused of protecting an intricate web of businessmen, officials and mobsters.