The worst dust storm in decades swept across eastern Australia on Wednesday, blanketing Sydney and snarling transport as freak conditions also brought earthquakes, giant hailstones and even a tornado.
Gale-force winds dumped thousands of tonnes of red desert dust on Australia's biggest city, shrouding it in an eerie orange haze and coating the iconic Sydney Opera House in a fine layer of powder.
The storm, reportedly the most serious since the 1940s, then spread 600 kilometres (375 miles) up the coast to Queensland and could even hit New Zealand, some 4,000 kilometres away, experts said.
Dust covered most of New South Wales, Australia's most populous state, pushing air pollution to record levels and depositing about 75,000 tonnes of powder in the Tasman Sea every hour.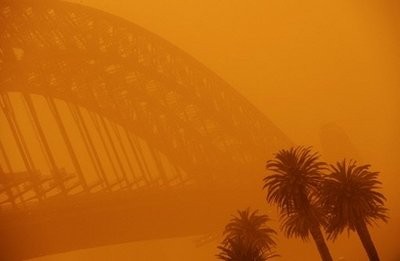 The Sydney Harbour Bridge is shrouded in an eerie blanket of dust.
"Dust storms like this occur quite regularly but they rarely travel this far east and come through Sydney," said John Leys, principal research scientist with New South Wales' Department of Climate Change and Water.
Sydney residents wore face masks and covered their mouths with scarves as they travelled to work under hazy skies. Traffic was bumper-to-bumper on major highways.
Air transport was severely disrupted with passengers facing long delays at Sydney airport and many international flights diverted to Melbourne and Brisbane.
Flag-carrier Qantas urged passengers to cancel any non-urgent travel, while budget offshoot Jetstar offered free flight rescheduling and refunds.
"We encourage any passengers with non-essential travel arrangements to reconsider their travel plans for the day," Qantas said in a statement.
Sydney Ferries suspended harbour services and police warned drivers to take extra care in poor visibility. Ambulance workers reported a sudden spike in respiratory problems.
"We have already seen an increase in calls to people suffering from asthma and other respiratory problems," New South Wales Ambulance Service said in a statement.
Australia, in the grip of a decade-long drought, is emerging from an abnormally hot southern hemisphere winter including the hottest August on record.
Elsewhere in New South Wales, hail stones "the size of cricket balls" smashed windows as thunderstorms and gale-force winds lashed the state late on Tuesday.
"We've had reports of cars with both their front and rear windscreens smashed," an official from the State Emergency Service said.
Further north, Queensland imposed a ban on lighting fires across large parts of the state a day after a dozen bush blazes sprang up following a spell of hot, dry weather.
Victoria state was on alert for flash floods as heavy rains fell, following a pair of minor earthquakes on Tuesday. The 3.0- and 2.6-magnitude tremors did not cause any damage, officials said.
Police in southwestern New South Wales, bordering Victoria, reported bizarre conditions on Tuesday as dark red skies thick with dust cut visibility to just two to three metres (yards) in some areas.
"I've never seen anything like it in all my life, and I grew up here," a police officer at the town of Broken Hill told national news agency AAP.
"It was darker than night-time, and lasted for about half an hour. You couldn't even see the street lights."
And residents near the capital Canberra described how a mini-tornado tore through the town of Murrumbateman late on Tuesday.
"It sounded like a jumbo jet rumbling on to the roof," one resident told public broadcaster ABC.