WASHINGTON, April 18, 2010 (AFP) - Representatives from the world's leading economies were to meet here Sunday to see if they can find common ground on climate change, as wide gaps divide the United States, China and other key nations.
The US-led Major Economies Forum includes 17 countries responsible for the bulk of global emissions -- and excludes smaller nations such as Sudan whose firebrand negotiators held up sessions at December's much criticized Copenhagen summit.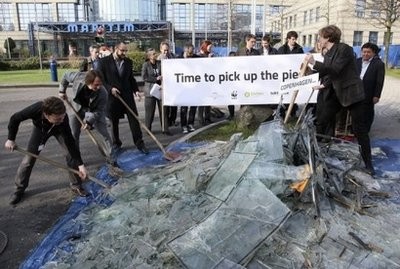 (AFP file) Protestors shovel broken glass into a pile in Bonn, western Germany during a demonstration calling on leaders to pick up the pieces of the climate summit in Copenhagen in Dec. 2009.
The United States hopes that the closed-door talks, which start with a dinner, will let key nations quietly assess what, if anything, they can achieve heading into the next major climate summit in December in Cancun, Mexico.
"Clearly, there is still a gap between the views of the developing and developed world," State Department spokesman Philip Crowley said.
"We're going to see if we can, through the course of this discussion, narrow that down," he said.
White House aide Michael Froman and US climate negotiator Todd Stern sent participants a set of questions for the discussions, starting simply with, "What is the outcome we are all seeking in Cancun?"
Alden Meyer, director of strategy and policy at the Union of Concerned Scientists, which supports action against climate change, said it was "very difficult to close the deep gaps between countries such as the US and China."
The Washington talks offer a chance to "see if there is any convergence on what these key countries want, because if there is, that will give us a sense that there might be some way forward to get progress in Cancun," Meyer said.
China has surpassed the United States as the world's top emitter of carbon, which UN scientists say is causing global warming that could put entire species at risk if unchecked.
China has announced plans to reduce the intensity of carbon emissions.
But China, India and other developing nations have resisted a legally binding climate treaty, arguing that wealthy nations bear primary responsibility for climate change.
The United States was the only major country to reject the Kyoto Protocol, whose obligations expire at the end of 2012, calling it unfair because it made no demands of emerging economies.
President Barack Obama is pushing for the first-ever nationwide plan to curb US emissions, with senators set to present long-delayed legislation later this month.
In a recent interview with the Australian Broadcasting Corp., Obama said that while the United States needed to act on climate change, China and other emerging countries should not wait until their living standards improve as it was "not a sustainable, practical approach."
But Ben Lieberman, an expert at the conservative Heritage Foundation, doubted that the talks in Washington could bridge the divide, pointing to China's heavy reliance on coal to power its economy.
"They get a lot of positive press about the wind power and solar power that they have and that they export, but that's a trickle compared with their coal-fire generation," Lieberman said.
"They've made it very clear they're not going to jeopardize economic growth for global warming," Lieberman said. "And even if they were to focus on the environment, they have more pressing problems."
Still, some China watchers say that climate change could mark a turning point in the nation's global role. Beijing, long a champion of the developing world, faced criticism both in wealthier and poorer nations for its position.
"Copenhagen, in this respect, may have been a watershed event," said Elizabeth Economy, director of Asia studies at the Council on Foreign Relations.
"For many developing countries, climate change has revealed China as less and less 'one of us' and more and more 'one of them,'" she said.
The Major Economies Forum on Energy and Climate (MEF) was launched in March 2009 with the purpose of facilitating dialogue among major developed and developing economies.
The 17 participants include Australia, Brazil, Britain, Canada, China, the European Union, France, Germany, India, Indonesia, Italy, Japan, Korea, Mexico, Russia, South Africa and the United States.