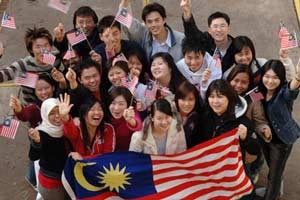 Malaysian students celebrate Malaysia's national independence day on August 31n 2005
The education ministry said the decision was also aimed at promoting Malaysia as a regional education hub, by dumping the old criteria, which had deterred brand-name international schools from setting up branches here.
Malaysian Deputy Prime Minister Najib Razak denied the decision reflected badly on the national education system, and said it was aimed at producing citizens able to compete on a world-class level.
"The reality is that, if we prevent them (from entering international schools), many will go overseas, like Singapore, Thailand, UK and so on. So Malaysia can't stop that from happening," he said.
"This is also one way for us to improve the country's competitiveness, as that depends heavily on human capital development, and we want to churn out citizens who can compete at the global level."
Najib said that Malaysian students who enrolled in international schools should take classes in the national language Bahasa as well as general knowledge courses to "preserve their Malaysian identity".
Under the ban, Malaysian children were not allowed to attend international schools here unless one parent was a foreign national, or had worked overseas for several years.
Najib said the cabinet made the decision because it wanted to provide wider opportunities to parents, but that it would continue to invest in state education.
"The national education system will continue to be strengthened. That is our commitment. But there have been requests for a more global and internationalised education system," he said.
Education Minister Hishamuddin Tun Hussein said Malaysian children could make up some 40 percent of the enrolment at international schools under the new rules.
"Efforts to increase the competition is aimed at attracting more foreigners to study in Malaysia, attract foreign investments to Malaysia, reduce currency flow and to avoid students and professionals from leaving the country," he said according to the Bernama news agency.
Hishamuddin said that currently there are only 32 international schools in Malaysia, with an enrolment of 10,663 including 2,608 Malaysian students.
Source: AFP