Malaysia is considering blocking the movement of rice across its borders, a minister said Monday in a move aimed at ensuring supply of the subsidised commodity and keeping prices low.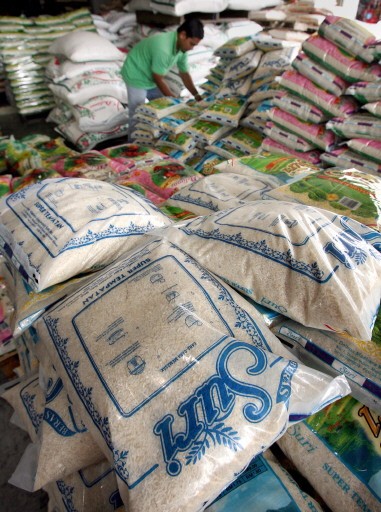 worker arranges sacks of rice at a wholesale market in Kuala Lumpur on May 5, 2008.(Photo: AFP)
The measure comes as the cost of rice, a staple food for the country's 27 million people, continues to surge. A popular brand shot up to 29.39 ringgit (9.50 dollars) for a 10 kilo bag this week from about 20 ringgit in January.
"The price of rice in Malaysia is lower by at least three ringgit per kilogramme compared to Thailand and Indonesia, and much lower compared to Singapore," Domestic Trade and Consumer Affairs Minister Shahrir Abdul Samad said.
"Rice is being taken out of the country because it is cheap since it is a subsidised commodity. I am asking my officers to study if we can stop the movement of rice across the border just like one cannot take out subsidised cooking oil," he told reporters.
Shahrir said the aim of the ban was to ensure there was sufficient rice supply in the country and to prevent prices from spiking.
Malaysia has already announced a list of 10 controlled items which must not cross borders: sugar, flour, cooking oil, petrol, diesel and gas -- which are all subsidised -- as well as steel, cement, chicken and fertilizer.
Earlier this year there were severe shortages of flour and cooking oil caused by price-hike rumours which triggered panic buying.
Malaysia, which imports about 30 percent of its rice needs, heavily subsidises more than 20 daily food items including milk and salt.
World rice prices have soared this year, a trend blamed on higher energy and fertiliser costs, greater global demand, droughts, the loss of rice farmland to biofuel plantations, and price speculation.