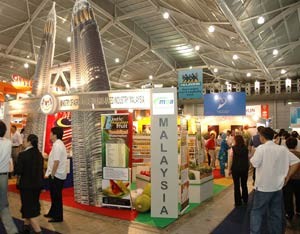 Malaysian Halal pavilion for the first time appears at FHA 2006 exhibition in Singapore
Malaysia will open in January one of the world's first completely halal supermart, a senior official said Monday, as part of an initiative to tap into the global billion dollar halal market.
"Focusing on halal alone, we are among the first in the world," Azul Shah, business development director of Glohex Consulting Group told reporters.
Glohex is the holding company of the halal supermarket chain which will be known as HalMart and the first outlet will be opened in Johor Baharu in the southern Johor state, neighbouring Singapore in January.
Azul said HalMart will sell only halal products from "farm to plate."
Khaled Nordin, minister of entrepreneur and cooperative development said HalMart will give bumiputra (ethnic Malays) entrepreneurs the leverage they need to be a part of the lucrative halal market.
World trade in halal products, which comply with Islamic standards, is expected to grow by 10-20 percent a year from an estimated 2.1 trillion dollars, experts said recently.
HalMart has already received offers to open stores in Brunei and Indonesia, he said.
Under the concept of halal -- meaning "permissible" in Arabic -- pork and its by-products, alcohol and animals not slaughtered according to Koranic procedures are all "haram" or forbidden.