KUALA LUMPUR, June 10, 2010 (AFP) - Malaysia on Thursday unveiled a 69-billion-dollar plan intended to spur growth and attract much-needed foreign investment as it faces increasing competition from regional neighbours.
The country is aiming to become a high-income economy by 2020 rather than continuing to rely on its low-cost structure to make it attractive.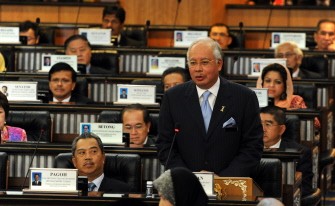 Malaysia's Prime Minister Najib Razak unveils a development plan in the parliament house in Kuala Lumpur on June 10, 2010.AFP photo
The 2010-2015 Tenth Malaysia Plan is Prime Minister Najib Razak's first since taking office last year, where he also set new targets under the five-year blueprint to raise growth and trim a ballooning fiscal deficit.
Malaysia is aiming for 6.0 percent growth this year but as the region powers back to health, it is facing competition from Southeast Asian neighbours such as Thailand, Indonesia and Vietnam that erode Malaysia's attractiveness.
"The global economic landscape today has changed significantly and Malaysia can no longer depend on a low-cost structure to remain competitive internationally," Najib said in a speech in parliament.
"Globalisation, liberalisation and the emergence of countries such as China, India, Brazil, Russia, the Middle East and countries in the region have intensified the competition for trade and investment," he added.
The export-dependent country forecast average annual economic growth of 6.0 percent over the five years, and targeted to reduce its fiscal deficit from 5.3 percent of gross domestic product in 2010 to 2.8 percent in 2015.
Malaysia's budget deficit widened to 7.4 percent of GDP in 2009 after the government introduced two stimulus packages worth 67 billion ringgit last year to pump-prime the economy as the downturn dried up demand for its exports.
Under the five-year plan worth 230 billion ringgit (69 billion dollars), Najib pledged the government would boost spending on infrastructure and to stimulate private sector investment.
He said the government would partner private firms in 63 billion ringgit of "high-impact" projects that include the construction of seven highways and two coal-powered electricity plants.
Najib said the government would continue to assist the majority Muslim Malays and indigenous groups -- collectively known as "bumiputra" -- but would roll out programmes to enhance their capabilities.
The decades-old affirmative action policy which hands bumiputras privileges in housing, education and business has been criticised as uncompetitive and improperly benefiting the elites.
Economist Yeah Kim Leng said the government was on the right track but warned that the biggest challenge it faces is to regain investor confidence.
"The other challenge will be to reduce the fiscal deficit while still spending given the adverse global environment and in carrying out government plans for privatisation," the economist at ratings agency RAM Holdings told AFP.
Malaysia is one of Asia's largest importers of labour with an estimated 1.9 million migrant workforce, and Najib said the government also aimed to improve the quality of the workforce and reduce its dependence on foreign workers.