KUALA LUMPUR, Sept 18, 2011 (AFP) - Malaysia warned against non-essential travel to southern Thailand on Sunday, after four of its nationals were killed in bomb attacks in the insurgency-plagued region.
Thai police have said militants may have deliberately targeted tourists in bombings near two hotels and a Chinese-Thai cultural centre in a coordinated attack in Narathiwat province on Friday night.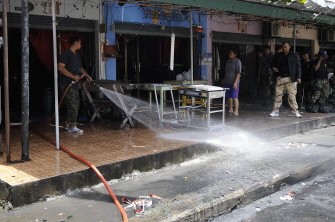 AFP - Thai official workers clean the site of a bomb blast by suspected separatist militants in Thailand's restive southern province of Narathiwat on September 17, 2011.
Malaysia's foreign ministry issued a statement on Sunday advising travellers to avoid southern Thailand until the security situation improves.
Those killed in the attacks included a three-year-old boy, the ministry said. The bodies have been returned to Malaysia.
A seven-year rebellion in Thailand's Muslim-majority south has left thousands dead.
Around 4,800 people have been killed in near-daily attacks since early 2004, according to Deep South Watch, an independent research group that monitors the conflict in three southern provinces near the Malaysian border.