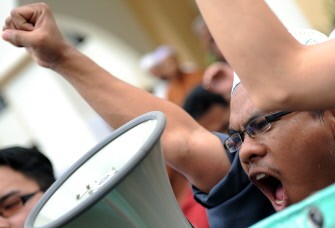 Malaysian Muslims shout slogans during a protest inside the compound of a mosque in Kuala Lumpur on January 8, 2010 (AFP photo)
KUALA LUMPUR, Jan 8, 2010 (AFP) - Three Malaysian churches have been targeted with firebombs, leaving one badly damaged, in an escalating dispute over the use of the word "Allah" by non-Muslims.
Muslim groups angry over the use of "Allah" as a translation for the Christian God held small protests outside at least two mosques in the capital Friday, but plans for mass nationwide demonstrations did not materialise.
Police deployed officers to patrol churches and mosques across the country after a church in suburban Kuala Lumpur was set ablaze in a midnight attack that gutted its ground floor.
Molotov cocktails were thrown into the compounds of two other churches in pre-dawn raids, but did not cause serious damage.
Prime Minister Najib Razak condemned the attacks which he said could destroy racial harmony in Malaysia, a Muslim-majority country with ethnic Chinese and Indian communities which has seen racial conflict in the past.
"As a multiracial community we must practice respect for one another... it cannot come under threat from anybody," he told state media, pledging action to prevent any further incidents.
Police chief Musa Hassan said that officers were deployed to monitor churches nationwide after the fire-bombings as well as phone threats to other places of worship.
"We don't know if all three attacks were isolated or linked, we are still investigating, the modus operandi was different at all three incidents," he told a press conference.
Tensions were heightened last week when the High Court ruled in favour of the Catholic "Herald" newspaper which has used "Allah" as a translation for "God" in its Malay-language section.
In a long-running legal battle, the government has argued the word should be used only by Muslims.
The ruling was suspended on Wednesday pending an appeal, after the government argued the decision could cause racial conflict.
In the capital Friday, a few dozen demonstrators gathered outside the national mosque and another in the Malay enclave of Kampung Baru, chanting "God is Great" and "We will defend the dignity and rights of Muslims."
"We have lived in peace with all religions but we want other religions to respect us and the use of the word Allah, which is exclusive to Muslims," said organiser Arman Azha Abu Hanifah.
The first incident struck the three-storey Metro Tabernacle church, part of the Assemblies of God movement, leaving its ground floor a charred and twisted wreck.
"Witnesses saw four people smash the glass and throw incendiaries into the church building. They came on two motorcycles," church leader Peter Yeow told AFP, warning other churches to "double their guard" against any attacks.
Several hours later, the Catholic Church of the Assumption in Kuala Lumpur's southwest was targeted, parish priest Philip Muthu said.
"I was awoken by men riding on motorcycles who threw a kerosene bomb into the church compound," he told AFP, adding that the fire damaged part of the grounds.
A Molotov cocktail was also thrown into the front porch of the nearby protestant Life Chapel church.
"The bomb damaged the wall and plants in the area but thankfully no one was injured," said church elder Wong Sai Wong.
Religion and language are sensitive issues in multiracial Malaysia, which experienced deadly race riots in 1969.
The row over the use of "Allah" is among a string of religious disputes that have erupted in recent years, straining relations between Malays and ethnic Chinese and Indians who fear the country is being "Islamised."
About 10 percent of Malaysians are Christians, including some 850,000 Catholics. More than half of those Catholics are from indigenous groups, most of whom live in the Borneo island states and who mainly speak Malay.