Malaysian opposition leader Anwar Ibrahim said he would be charged with sodomy on Thursday, accusing the government of trying to sabotage his bid to re-enter parliament in a by-election this month.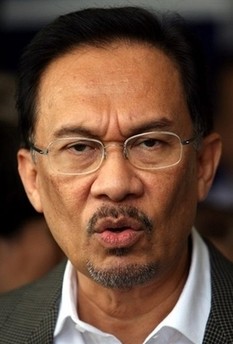 Malaysia opposition leader Anwar Ibrahim is seen here arriving at the Islamic Syariah Court and Enforcement office in Kuala Lumpur, on July 30. Anwar said Wednesday he had been informed he would be formally charged with sodomy on Thursday -- a crime punishable by up to 20 years imprisonment.(AFP/File)
Anwar, a former deputy premier who was jailed a decade ago on sodomy charges that were later overturned, faces new accusations by 23-year-old Mohamad Saiful Bukhari Azlan.
"They will charge me and they will use this to humiliate and affect me in the by-election," he told a news conference Wednesday, after his lawyers said he had been ordered to appear in court on Thursday.
Anwar said he had earlier been informed that his alibi was strong and that there was insufficient evidence to charge him, and blamed the new development on Prime Minister Abdullah Ahmad Badawi.
"This charge is only possible on the orders from the prime minister, who today faces a confidence crisis and leadership struggle," he said.
Anwar said that Abdullah, who is facing calls to quit since March elections that handed the opposition unprecedented gains, was using the case "to cover up his failures and abuses."
Last week Anwar announced he would contest a by-election for a seat vacated by his wife. The Election Commission announced the vote would be held on August 26.
"I will continue with my agenda, I believe I will go to parliament and I will bring changes to this country," Anwar said.
Police confirmed the Attorney-General's office had decided to charge Anwar with sodomy, which is punishable by up to 20 years imprisonment in Malaysia, a conservative and predominantly Muslim country.
Election Commission secretary Kamaruzaman Mohamad Noor said Anwar could still contest the by-election even after charges were laid, although he would be disqualified if he is found guilty and jailed.
"Under Malaysian laws, you are only guilty when you are convicted. Otherwise, being charged does not make you a convict, or a guilty person," he told AFP.
Anwar, the figurehead of the Keadilan party which heads the three-member opposition alliance, has said he is bracing for "massive" vote-rigging by the government aimed at blocking him from victory.
Keadilan information chief Tian Chua said that if Anwar goes to trial on the sodomy charges, the case will begin in September at the earliest, meaning there will be no outcome until well after the by-election.
Chua said there was also a "certain amount of risk" that Anwar could be taken into custody and not granted bail after being charged.
During the investigation into the sodomy charges, the 60-year-old opposition leader was arrested and spent a night in police custody before being granted police bail.
Ibrahim Suffian of the Merdeka Centre research firm said Anwar was virtually assured of victory in the ballot in his home state of Penang, in the country's northwest.
"Barring any unforeseen situation emerging in the next couple of weeks, I don't think we are in for any surprise -- he's going to win the election by a handsome margin," the pollster said.
"The key thing will be the margin by which he wins, and whether it's bigger than his wife's margin, as a barometer of how opposition support has improved or not since March."
In the by-election constituency of Permatang Pauh, there was strong support from residences of all races, including majority Muslim Malays and minority Indians and Chinese.
"The government has been telling us that it was wrong for Anwar's wife to resign so soon after the general elections," said 35-year-old businesswoman J. Sumathi.
"However, it is a non-issue as far as I am concerned. Anwar is a capable leader who should be in parliament to fight for our rights."