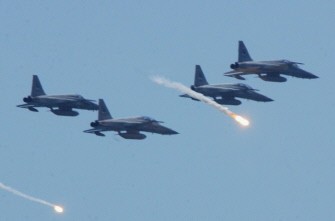 This file photo shows F-5E fighter jets releasing flare decoys during rehearsal (AFP photo)
KUALA LUMPUR, Dec 24, 2009 (AFP) - Two missing US-made fighter jet engines, worth 29 million dollars and stolen from a Malaysian military airbase, have been traced to Argentina, police said Thursday.
Police chief Musa Hasan said officers were checking with their counterparts in Buenos Aires to confirm if the missing engines are still in the country.
"The stolen engines have been taken to Argentina," the police chief told AFP. "We have to check if the engines are still in that country."
Musa told the Star newspaper that several top airforce officers, including generals, are expected to be questioned in connection with the theft.
Four people, including three low-ranking personnel, have already been arrested and freed on bail for their alleged role in the theft, he said according to the daily.
"We need to question all of them as it is not easy to just cart away the engines without authorisation and proper documents," he was quoted as saying.
The Malaysian government is facing a storm of criticism over allegations of official corruption after the theft of the engines.
News reports this week said the two Northrop F-5E jet engines had been sold on the black market by military officers to a South American company after being taken from a military airbase, apparently last year.
Armed forces chief Azizan Ariffin said the theft was only the "tip of the iceberg" after a newly completed audit revealed equipment worth millions of ringgit was missing, the New Straits Times reported Tuesday.
Besides the engines, military equipment including parts of the jet fighter were stolen.
A number of countries subject to US arms embargoes, including Iran, Sudan and Venezuela, have F-5 fighters that use the antiquated engines.
The jet first flew in 1963 and Northrop ended production in 1989.