Iraqi Prime Minister Nuri al-Maliki planned to begin forming his cabinet Friday, eight months after elections and a day after an acrimonious meeting of MPs over claims a power-sharing deal had been broken.
Thursday evening's session saw President Jalal Talabani, re-elected by MPs, name Maliki as prime minister, but was overshadowed by a dispute that prompted a major Sunni-backed bloc to storm out of the chamber.
The argument began immediately following the selection of Osama al-Nujaifi, a Sunni Arab, as parliament speaker.
The Iraqiya bloc to which Nujaifi belongs complained that a deal they had signed was not being honoured. It had called for three of its top members, barred for their alleged ties to Saddam Hussein's Baath party, to be reinstated before voting for a president.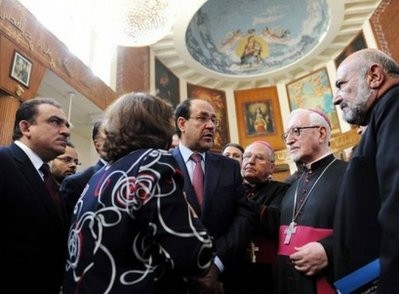 Handout picture shows Iraqi Prime Minister Nuri al-Maliki (C) speaking to Assyrian Catholic Bishop Matti Matoka (2nd r) and Chaldean Bishop Shlimun Warduni in Baghdad.
When their demands were not met, some 60 MPs left the chamber. After some confusion, the remaining MPs began voting to re-elect Talabani.
"We boycotted the session because we showed good intentions to others, but they stabbed us in the back," Saleh al-Mutlak, part of the trio Iraqiya wanted reinstated, told AFP.
"We will not return without international guarantees," he added, without elaborating.
The power-sharing deal, clinched after three days of heated talks, stipulated that a Sunni Arab hold the post of speaker, and that Talabani and Maliki retain their posts.
The agreement also established a statutory body to oversee security as a sop to former premier Iyad Allawi, who had held out for months to take the job from Maliki after his Iraqiya bloc narrowly won the most seats in the March 7 polls.
Maliki now has 30 days to form his cabinet, and the next parliamentary meeting is scheduled for Saturday.
Iraqiya has said its participation hinged on four conditions: a bill forming the security body, a committee examining cases against political detainees, codifying the power-sharing deal and annulling the bans against the three Iraqiya members.
The bloc expressed hope it "would not be obliged to change its decision to participate in the political process if these conditions are not met."
The backing of Iraqiya, which won most of its support among the Sunni Arab minority that dominated Saddam's regime and has been the bedrock of the anti-US insurgency since the 2003 invasion, was seen as vital to prevent a resurgence of violence.
Kurdish politician Massud Barzani, who brokered the deal, earlier paid tribute to Iraqiya for concessions that allowed it go forward. He said he hoped Allawi would agree to head the new National Council for Strategic Policy (NCSP).
Iraqiya MP Mustafa al-Hiti told AFP that US President Barack Obama had telephone Allawi to confirm "the NCSP would be a decision-making body and that that the law creating it would be voted on before the formation of a new government."
Allawi had repeatedly accused Maliki of monopolising security decisions during his first term.
As long as six months ago, US officials had floated the idea of a new counterweight to the power of the premier's office as a way of breaking the deadlock over the premiership.
Barzani, president of the autonomous Kurdish region in northern Iraq, had said he expected Washington to endorse the deal, which the White House later welcomed as a "big step forward."
The US military, which currently has fewer than 50,000 soldiers in Iraq, is due to withdraw all of its forces from the country by the end of 2011.
"This looks like a good outcome for those working for a stable, peaceful Iraq and a bad result for those whose agenda is more sectarianism and violence," said Anthony Blinken, national security advisor to US Vice President Joe Biden.
A senior US administration official was more explicit.
"The fact that this emerging Iraqi government is so inclusive basically means that it is a strong rejection of interference of negative external influences in the region," the official said.
"Of course, I'm speaking specifically about Iran's attempts to engineer an Iraqi government that was based on a unified sectarian Shia list that would have been a narrow government and not representative of the government of Iraq."
During the coalition talks, Allawi had accused Iran of putting unwarranted pressure on Iraqi leaders to keep the incumbent in office, while Maliki in turn accused the ex-premier of pandering to Sunni Arab states, notably Saudi Arabia.