Police say they are investigating the death of a man who fell from a roller coaster at a Tokyo amusement park.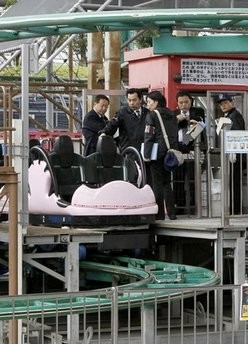 Police investigators examine a spinning roller coaster after a man fell from that to his death at the Tokyo Dome City Attractions Sunday, Jan. 30, 2011 in Tokyo.
They say the man fell Sunday as he was riding with a friend on the Spinning Coaster Maihime at the Tokyo Dome park. He was rushed to a hospital but was declared dead two hours later.
The small roller coaster has single cars which spin like a tea cup as they travel along a track.
Police say they are investigating whether the accident was caused by professional negligence or if the man failed to follow safety instructions.
Tokyo Dome had no immediate comment but suspended all rides at the complex.