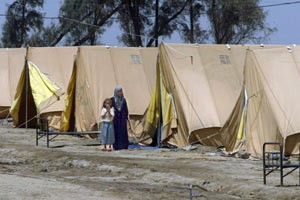 Hundreds of thousands of Iraqi families have been forced to leave their homes since Iraq war broke out (AFP Photo)
"Our troops overreacted because of the pressure on them and they killed innocent civilians in cold blood," John Murtha told reporters. The November 19 incident occurred in Haditha, Iraq.
"There was no firefight" that led to the shootings at close range, John Murtha said, denying early official accounts, which said that a roadside bomb had killed the Iraqis.
"There were no (roadside bombs) that killed these innocent people," he said.
Time magazine reported the shootings on March 27, based on an Iraqi human rights group and locals, who said that 15 unarmed Iraqis died, including women and children, when Marines barged into their home throwing grenades and shooting.
"It's much worse than reported in Time magazine," Murtha said.
At least three Marine officers are under official investigation, and no report has been released, Army Times said Tuesday.
Murtha is a harsh critic of the war in Iraq and said that such incidents are the result of inadequate planning, training and troop numbers in Iraq.
Source: AFP