PARIS, April 26, 2010 (AFP) - The price the Greek government must pay to borrow fresh funds rose to a record on Monday as financial markets bet against Athens solving its financial problems despite an appeal for international aid.
The rate or yield on Greek-10 year bonds reached 8.952 percent.
Dealers said hardline comments from Berlin on the tough conditions that will be set for any aid deal, and continuing delay in specific terms, allows the market free rein to trade down Greek debt -- which in turn only makes Athens' problems more difficult still to solve.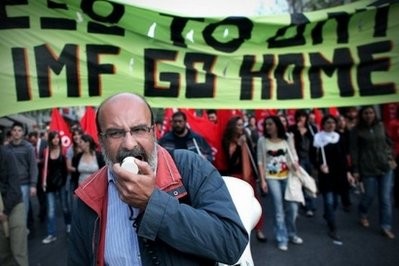 (AFP file) Protesters take part in a demonstration over the economic situation in Greece.
At the same time, concerns that contagion from the crisis could spread to other members of the 16-nation eurozone such as Ireland, Portugal and Spain is putting pressure on their government bonds.
At the yield or rate of return on benchmark Greek government 10-year bonds surged on Monday from 8.680 percent on Friday when Athens threw in the towel and called on the EU and International Monetary Fund for help.
The rate had hit a previous record high of close to nine percent on Friday and looked set to test that level again on Monday, dealers said.
The gap or spread with benchmark German bonds widened to 5.76 percentage points from 5.61 percentage points on Friday, with Greece having to pay more than double Berlin's cost of finance.
On Friday, after months of uncertainty, Athens called on the European Union and the IMF to activate a rescue deal worth about 45 billion euros (60 billion dollars) at about five percent in a first year.
The Greek issue dominated weekend IMF and Group of 20 meetings in Washington, with officials trying to nail down the details well before May 19 when some 8.5 billion euros of Greek debt falls due.
Analyst Padhraic Garvey at ING said that the prospect of Greece having eventually to restructure its debt -- meaning holders of its bonds will lose money -- cannot be ruled out.
"For the (debt) restructuring idea to go away, the market has got to play ball and facilitate a fall in Greek yields," Garvey said.
"The higher that Greek ... yields go the bigger is the hole that Greece finds itself in and that is why investors are fearing the worst," he added.
Greek officials insisted over the weekend that there was absolutely no question of Athens seeking to restructure its debt.
The rate on Portugal's 10-year government bond rose to 4.958 percent on Monday from 4.893 percent on Friday. The yield on Spanish bonds rose 4.017 percent, and on Irish 10-year debt to 4.815 percent.
At BNP Paribas bank in Paris, analysts said: "It is clear that near-term doubts will remain on the ability of Greecer to exit the crisis via only drawing the EU-IMF assistance plan.
"In addition, ratings agencies could decide further downgrade even if an agreement onb a financiual support is reached."
They remarked: "Greece will remain under the spotlight with speculation about debt rescheduling-restructuring and concerns over the contagion effects to persist for a while."