Asian stocks soared Thursday as dealers hoped the G20 summit will produce a plan to tackle the world financial crisis, while some positive news out of the United States added to market confidence.
Hong Kong led the charge, leaping 5.3 percent higher by noon, while Tokyo finished up 4.40 percent at a three month high and Sydney closed 2.81 percent higher as markets continued an upward trend that began early last month.
In Seoul, shares closed 3.54 percent higher.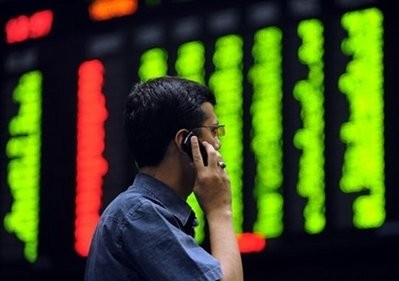 A Pakistani stockbroker watches a share price board at the Karachi Stock Exchange on April 1
The massive gains came as leaders of the 20 developed and developing nations prepared to meet later in London to hammer out an agreement aimed at dragging the world out of its worst economic slump in more than 70 years.
"Make no mistake, we are facing the most severe economic crisis since World War II, and the global economy is now so fundamentally interlinked that we can only meet this challenge together," said US President Barack Obama following pre-summit talks.
Earlier, France and Germany demanded tough action by the G20 to improve financial regulations while Obama warned the United States could no longer be counted on to be the "voracious consumer" that would lead worldwide growth.
French President Nicolas Sarkozy and German Chancellor Angela Merkel said they were not happy with the draft proposals for the summit, and vowed to stand together to press for "non-negotiable" new global finance rules.
But their calls were at odds with Japanese and United States plans to use further fiscal stimulus to kickstart economies.
Asian markets were following a strong performance Wednesday on Wall Street, which rose two percent after a positive manufacturing survey for March.
The Institute of Supply Management index, also known as the purchasing managers index, came in at 36.3 percent, slightly better than the expected reading of 36.0, and up from the February reading of 35.8.
The figure is far below the 50 percent level that separates expansion and contraction, however.
Other data revealed construction spending for February decreased 0.9 percent month-on-month. It was expected to decline 1.9 percent after a revised 3.5 percent monthly drop in January.
Pending home sales for February were also up, 2.1 percent from the previous month. They were expected to remain unchanged after declining 7.7 percent in January.
"It was obviously Wall Street, which started low but turned out to end higher, which is boosting the Tokyo share prices," said Seiichi Suzuki, strategist at Tokai Tokyo Securities Co.
The US market opened sharply lower Wednesday after a payrolls firm reported higher than expected job losses in the US private sector in March amid the prolonged recession. But the manufacturing data led the rebound.
There was also some rare good news for the US auto sector, where March sales saw a 24.5 percent rise month-on-month. However, the 857,735 new sales was still 37 percent lower year-on-year.
Further US data on unemployment and non-farm payrolls is due out Friday.
Eyes will also on Thursday be on the European Central Bank, which is expected to cut its key interest rate to an all-time low and may take unconventional measures to combat a deepening recession.
Global stocks have rocketed over the past four weeks as confidence returns to markets following a number of stimulus measures by governments and a pledge by Washington to help banks clear their books of toxic assets that had clogged lending.