May was the deadliest month for civilians in Afghanistan since at least 2007, the UN said Saturday, as 15 people were killed by a mine in the southern province of Kandahar.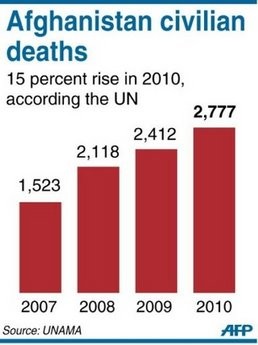 Chart showing the civilian death toll in Afghanistan since 2007
The UN's Afghan mission (UNAMA) said it had documented 368 deaths and 593 injuries of civilians in May due to the ongoing conflict.
"More civilians were killed in May than in any other month since 2007 when UNAMA began documenting civilian casualties," UNAMA human rights director Georgette Gagnon said in a statement.
The UN said militants were responsible for 301 of the deaths, or 82 percent, with pro-government forces were responsible for 45 fatalities. Responsibility for the other 22 could not be determined, mostly because they died in crossfire.
Improvised bombs (IEDs), the Taliban's weapon of choice, continued to be a major cause of civilian deaths and injuries, killing 119 people and injuring 274 during the month.
Gagnon said most IEDs were pressure-plate devices which were often placed by roads and in busy commercial areas, resulting in civilian casualties.
"The widespread use by anti-government elements of these weapons is a violation of international humanitarian law," she said.
"We are very concerned that civilian suffering will increase even more over the summer fighting season which historically brings the highest numbers of civilian casualties. Parties to the conflict must increase their efforts to protect civilians now."
Fifteen civilians, including eight children, four women and three men, were killed Saturday when a vehicle hit a mine in the troubled southern province of Kandahar, the interior ministry said.
The United Nations said last year was the deadliest for civilians in nearly a decade of conflict in Afghanistan, with 2,777 reported dead, largely at the hands of insurgents but also as a result of NATO military operations.