Republican White House contender John McCain is reaching back through history to portray Barack Obama as an old-fashioned tax-and-spend liberal who would destroy jobs and growth.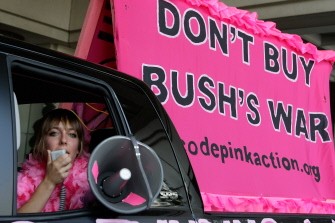 A member of Code Pink in a protest held on June 10 while Republican US presidential candidate Sen. John McCain (R-AZ) was addressing the 2008 National Small Business Summit in the same hotel.
On Tuesday, a day after Obama painted McCain as a clone of President George W. Bush, the Republican tied his Democratic foe to 1970s president Jimmy Carter and to that era's big government spending and over-regulation.
In a speech here to the National Federation of Independent Business (NFIB), which lobbies for owners of small enterprises, McCain said Obama would enact "the single largest tax increase since the Second World War."
"Under Senator Obama's tax plan, Americans of every background would see their taxes rise -- seniors, parents, small business owners, and just about everyone who has even a modest investment in the market," he said.
Obama's policies, including linking the federal minimum wage to inflation, were "a sure way to add to your costs and to slow the creation of new jobs," McCain added.
The Democratic hopeful, 46, is capitalizing on profound disquiet about rising unemployment and home foreclosures, plus opposition to the Iraq war, to accuse McCain of offering "four more years" for the hugely unpopular Bush.
McCain, 71, has a new line of retort, saying Obama would represent a "second term" for Carter, a throwback to a time of queues at gasoline stations, surging inflation and economic stagnation.
His attack at the NFIB hinged on Obama's promise to roll back multi-billion-dollar tax cuts enacted under Bush and levy higher taxes on those earning more than 250,000 dollars a year.
In riposte, Obama said McCain -- who once opposed the Bush tax cuts -- was guilty of fuzzy mathematics and again mocked the Republican's self-confessed weakness in economic matters.
House of Representatives Speaker Nancy Pelosi had a message for the angry Clinton supporters who are now threatening to vote for McCain in protest at Obama's primary triumph.
"Women and blue-collar workers, whatever their race, have the most to gain by the election of Barack Obama as president of the United States and the most to lose by the election of John McCain," she told reporters.