DAVOS, Switzerland (AFP) – Russian President Dmitry Medvedev has made a defiant stand against terrorism at the World Economic Forum in Davos, saying bombs would not stop him representing Russia at the top table.
Medvedev called on the world -- represented in this snowy Alpine resort by 2,500 senior economic powerbrokers -- to stand unified, saying that this was the only guarantee of successfully combatting extremist violence.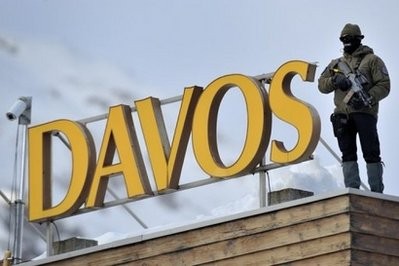 AFP file - A sniper stands on the roof of the Congress Center where the World Economic Forum is staged in Davos.
Delivering the opening address to the meeting of the world's business and political elite, Medvedev said he had maintained his trip to show his and Russia's defiance of the "terrorists" who killed 35 people.
"They expected their act would bring Russia to its knees. They expected their act would put us on the defensive. They expected and hoped the president of Russia would not come here, among other things of course," he said.
"These are the criteria they chose to choose the time and place of this action. But they miscalculated," he declared, during an address that began with a minute's silence for Monday's Domodedovo Airport blast.
"Russia is aware of its responsibilities to its citizens and its responsibilities to the world community, and this is the reason that I'm speaking to you today from this rostrum," he said.
Medvedev also called on the world to take concerted action.
"One thing can be said in a definitive way -- our success in countering this common threat depends on our solidarity and concerted action," he said, saying this was particularly important as the world is never more interdependent.
The attack did not divert him from making his pitch to the international investors that flock to Davos, outlining ten programmes that Moscow is putting in place to make the country more business friendly.
He said that Russia would not introduce any special taxes on the financial sector and that it was "taking measures to enhance our judicial system."
He also declared that Russia was moving towards establishing a single market "from the Baltics to the Pacific" and expressed hopes that the country would join the World Trade Organisation later this year.
Medvedev outlined plans for Russia to join the OECD following accession to the WTO and establish a common economic area with the European Union.
These were "processes are of major significance," he said.
However he stressed all efforts towards building up the world economy would be "futile if we fail to defeat extremism, terrorism and intolerance."
"If we fail to eradicate that evil forever, it is the greatest danger for mankind," he said.
Acknowledging the importance of meeting the aspirations of the population, Medvedev said that the Tunisian revolt was "quite a substantial lesson to learn for any authorities."
"This is a test of resilience, and I hope that the situation in Tunisia will stabilise and will not have a contagious effect across the Arab world," he said, amid reports of violent political protests in Egypt.
Ahead of Medvedev's speech, deputy prime minister Igor Sechin forecast that his country's economy will expand four percent this year before accelerating to six percent in 2012.
"We forecast that growth this year will not fall below four percent and six percent after," Sechin told AFP, quoting official data, adding that state investment in programmes involving gas giant Gazprom would drive the economy.
The economy grew 3.8 percent in 2010, just under the four percent expected by Moscow but marking a sharp recovery from the 7.9 percent contraction in 2009 due to the global economic crisis.
The forum, which goes on until Sunday, is to hear from Indonesia President Susilo Bambang Yudhoyono, his French counterpart Nicolas Sarkozy and Chinese Commerce Minister Chen Deming.