The United States held an unprecedented meeting Thursday with countries from the lower Mekong basin in what Washington said showed its commitment to combating climate change in Asia, AFP said.
US Secretary of State Hillary Clinton and the Foreign Ministers of the Lower Mekong Countries – Cambodia, Laos, Thailand and Vietnam – held the first-ever U.S.-Lower Mekong Ministerial Meeting in Phuket, Thailand, to discuss issues of common interest, particularly in the areas of the environment, health, education, and infrastructure development.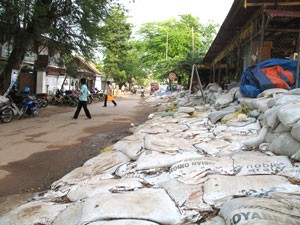 The Lao capital of Vientiane suffered from the worst flooding caused by the Mekong River in August 2008. The photo, taken during that time, shows a dyke made from bags of sand along the river in Vientiane (Photo: Truong Van)
Each country in the meetings pledged to set up working teams to discuss further cooperation on water resources, education and human resources development, Thai foreign ministry spokeswoman Vimon Kidchob said, according to AFP.

AFP said during their meeting, the five nations pledged to hold annual ministerial meetings to discuss progress.

According to an announcement dated July 23 on the US Department of State website, the Ministers welcomed, in particular, the initiative of the Mekong River Commission and the Mississippi River Commission to pursue a "sister river" partnership to share expertise and best practices in areas such as climate change adaptation; flood and drought management; hydropower and impact assessment; water demand and food security; water resource management, and other common concerns.

According to the US Department of State, America will spend more than US$7 million in 2009 on environmental programs in the Mekong Region.
The programs include development of "Forecast Mekong," a predictive modeling tool to illustrate the impact of climate change and other challenges to the sustainable development of the Mekong River Basin.
The program also include support for projects that promote the sustainable use of forest and water resources, preserve the tremendous biodiversity of the Mekong Basin, and increase access to safe drinking water.
The US Department of State says America is seeking Congressional approval for an additional US$15 million in 2010 for assistance related to improving food security in the Mekong countries.