Members of Syria's opposition will travel to Moscow this week for talks with a top official aimed at putting more pressure on President Bashar al-Assad, news reports said Monday.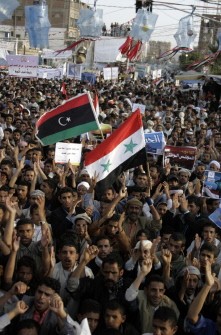 Yemeni anti-government protesters, holding the flags of Syria (front) and Libya's National Transitional Council (NTC), shout slogans against the regime during a demonstration in Sanaa on September 6, 2011
Mikhail Margelov, head of the upper chamber of parliament's foreign affairs committee and the Kremlin's special envoy to Africa, said the second such talks since June would be held on Thursday or Friday.
"The main attention will focus on the processes occurring within the opposition itself," Margelov told the Interfax news agency.
The group Margelov met in Moscow on June 28 included the rights advocate Radwan Ziadeh, who heads the Damascus Center for Human Rights Studies in Washington.
Margelov did not disclose who was coming to Moscow on this occasion.
Russia on Saturday criticised the European Union for imposing a unilateral embargo on oil imports on its Soviet era ally and has called on the opposition to halt their protests and engage in direct negotiations with Assad.
A top Russian arms exports official said last month that Moscow also intended to fulfill its weapons delivery contracts to Syria despite Washington's call for a global end to such sales.
Syrian troops on Monday stormed a village near the border with Turkey, wounding several civilians, local sources and Turkish news channel NTV said.
The governor's office in the southern Turkish province of Hatay sent ambulances to the border to pick up wounded people from the Syrian village of Ain al-Beida, one mile from the border, NTV said, without specifying the number of injured.
Two people were killed and five wounded in the army's assault, according to a Turkish local source in touch with the Syrian community on the other side of the border.
The wounded were taken to hospital in Hatay, the source told AFP on condition of anonymity.
The source said the number of wounded people might increase.
Officials from the governor's office were not available for immediate confirmation.
More than 2,200 people have been killed in Syria since almost daily protests began on March 15, according to the United Nations, while human rights groups say more than 10,000 people are behind bars.