BERLIN, April 6, 2009 (AFP) - Chancellor Angela Merkel made a surprise visit to Afghanistan Monday to meet with German troops stationed in the north of the country, her office announced.
Merkel was accompanied by Defence Minister Franz-Josef Jung, the Bild newspaper said, but this was not confirmed by her spokesman.
German forces were targeted by two attacks near the northern city of Kunduz on Sunday but no one was hurt, the army said.
Merkel's visit comes on the heels of a NATO summit hosted by France and Germany last weekend at which US President Barack Obama praised the alliance for committing up to 5,000 more troops to Afghanistan.
Obama singled out commitments from France and Germany as proof of their "seriousness of purpose".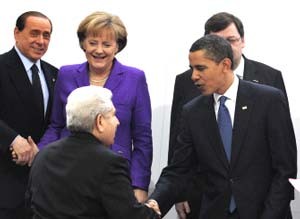 Cypriot President Demetris Christofias (Front) shakes hands with US President Barack Obama (R) as they chat with Italian Prime Minister Silvio Berlusconi (L) and German Chancellor Angela Merkel during a family picture on April 5 2009 during the EU-US summit in Prague (AFP photo)
Germany has sent 3,500 soldiers as part of an international force to the war-torn country that faces an increasingly bold Taliban-led insurgency.
Parliament agreed last year to send another 1,000 troops.