The 53-year-old will become the first German head of government to address the Knesset, an honour normally reserved for heads of state.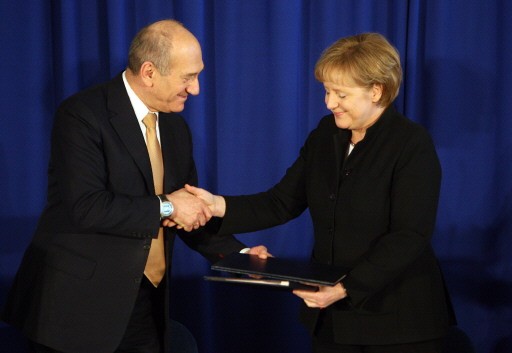 German Chancellor Angela Merkel (R) and Israeli Prime Minister Ehud Olmert shake hands after signing agreements between the two countries on March 17, 2008 in Jerusalem. (AFP Photo)
The invitation to address the chamber was "a very important step in the development of German-Israeli relations", Merkel said after meeting her Israeli counterpart Shimon Peres early on Tuesday.
But Merkel's plans to make her speech in German has ruffled some feathers in Israel, where memories of the Nazis' murder of six million Jews during World War II run deep.
Four MPs plan to stay away from the chamber in protest, according to local media, while other lawmakers, including at least one Holocaust survivor, have criticised the plans as "populist".
"I know the last sounds heard by my grandparents and my uncles whom I have not known were those of the German language," said Arieh Eldad, an MP of the far-right National Union-National Religious Party.
German being spoken inside the Israeli parliament have set off angry protests before in the Jewish state.
When Johannes Rau became the first German head of state to address the Knesset in 2000, he did so in German and several Israeli MPs stormed out in protest.
His successor Horst Koehler received a warmer reception five years later and included several sentences in Hebrew in his speech.
After meeting Merkel, Peres stressed that Israel favoured Germany's involvement in the region "as it is of the utmost importance that European countries and the United States close ranks in order to present a united and strong front to prevent Iran from developing nuclear weapons".
When asked about Israeli settlements on Palestinian land during a press conference with Prime Minister Ehud Olmert on Monday, Merkel sidestepped the controversial issue, saying only the question was complex.
And when asked about almost daily rocket fire launched at southern Israel by Palestinian militants in Gaza, she said, "There are conditions that don't make talks any easier."