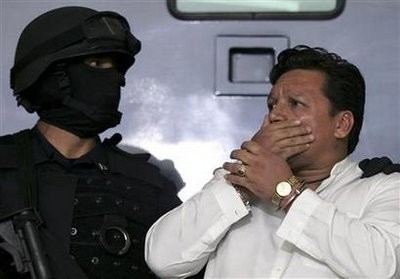 Mexican Federal Police present to the media Jose Mar Flores Pereira from Bolivia accused of hijacking an AeroMexico plane in Mexico City, September 9, 2009
A man who hijacked a Mexican plane is a singing evangelical minister, marksman and martial arts whiz who friends nicknamed "Crazy" as he turned to religion to escape a life of drug addiction and petty thieving.
Bolivian-born Jose Mar Flores, 44, set off a national security alert on Wednesday when he hijacked a plane flying from Cancun to Mexico City. He wielded a Bible and fruit juice cans filled with earth and bound with silver tape and wires to look like bombs.
The AeroMexico plane landed safely and all on board escaped unhurt after a senior crew member reasoned with Flores, who read from his Bible, wept, prayed and said he needed to warn Mexican President Felipe Calderon of an impending earthquake.
"I love this nation, I love God's people. I want us to pray because tremendous things are ahead," Flores told reporters after his arrest. "There is only one way to avoid it -- by uniting, by crying out wherever we are, whoever we are, whatever our religion, by begging God for this not to happen."
Security Minister Genaro Garcia Luna said Flores told police he picked the attack for September 9, 2009 because the date 9-9-9 is the inverse of 6-6-6, a number associated with the devil, and that the Holy Spirit accompanied him on his mission. He has yet to be charged.
Worshippers at Flores's evangelical church near the southern Mexican city of Oaxaca said he was gifted at healing the sick, and neighbors described him as quiet and respectful.
But Internet video footage shows a bizarre character with an obsession for cowboy-style gun tricks and martial arts. Friends nicknamed him "Crazy Flores", the daily Reforma said.
In one video clip, Flores shows off pistol-spinning skills, does some tricks with nunchucks -- fighting sticks joined by a chain -- then tosses a coin in the air and shoots it, dramatically falling down afterward and rolling on the ground.
He then shoots a hole through his wallet and inspects the damaged banknotes inside.
CHRISTIAN SINGER
Flores is then shown under a plastic sheet in a boat in a deep canyon in southern Mexico begging God to stop a raging storm. When the weather clears, he tosses his gun into the river and throws his arms in the air as friends applaud.
"I was the meanest shot in Santa Cruz, Bolivia. But Christ showed himself to be all-powerful," Flores tells worshippers in a sermon about the incident that was also filmed.
"I promised Jehovah that never again in my life would I pick up a gun," he says, addressing a crowded arena from a stage filled with plants and conga drums.
Flores's wife Elizabeth Melgar apologized for the hijack of the plane, which had 104 passengers aboard, and said he only wanted to get the media's attention about a dangerous earthquake he believed would soon hit.
"He just wanted to be listened to," she told reporters. "Only time will tell if it was truly God who sent him."
Flores arrived in Mexico a decade ago from Bolivia, addicted to cocaine and having served jail time, and began busking in Mexico City's seedy Plaza Garibaldi square, Reforma reported.
He also resorted to begging and thieving until he was befriended by a man who took him to his evangelical church and Flores became a preacher who tried to help drug addicts.
Under the stage name "Josmar" he recorded compact discs, decorated with his beaming photograph, of Christian songs sung in his vibrato-heavy voice accompanied by electronic organ.