Mexico's ruling party on Tuesday asked the mayor of the northern city of Monterrey to resign during a probe into videos of his brother receiving bundles of cash in city casinos.
Jonas Larrazabal, brother of mayor Fernando Larrazabal, was detained last Thursday after the videos were publicized by Reforma newspaper.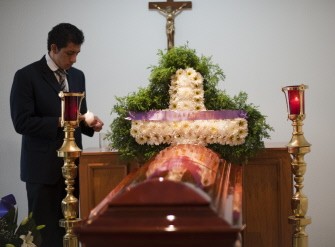 A funeral home staffer lights a candel beside the coffin of journalist Rocio Gonzalez Trapaga, a freelance reporter of Televisa channel during her funeral in Mexico City on September 2, 2011.
The executive committee of the National Action Party (PAN) asked the mayor to temporarily resign because his brother was implicated "in supposed acts of corruption, which has created a climate of suspicion and indignation."
The allegations caused a scandal in Mexico, coming days after an arson attack on Monterrey's Casino Royale which left 52 people dead and which authorities linked to extortion.
The PAN also asked Rodrigo Medina, governor of the border state of Nuevo Leon where Monterrey lies, to step down during the probe into the attack.
They said authorities were investigating "to what point workers from his (opposition politician Medina's state) government collaborated with organized crime, suggested by the evident support given by state police to the criminals who committed the fire."
A police officer and five suspected members of the Zetas drug gang have been detained in the probe so far.
Jonas Larrazabal meanwhile denied the accusations of extortion and said he had received payments from casinos for a cheese and alcohol business.
The PAN has faced mounting pressure as the media this week underscored the close ties between Monterrey's mayor and Finance Minister Ernesto Cordero, who is President Felipe Calderon's favorite to represent the party in the 2012 presidential race.