Global health chiefs warned against complacency over swine flu, saying one in three people may be infected worldwide if there is a pandemic, as life in Mexico returned to normal.
"It is critical for countries to maintain their alertness and monitoring so this evolution can be followed as closely as possible," said Keiji Fukuda, acting director-general of the UN's World Health Organization (WHO).
"We don't believe we have fully got a handle on the severity of the phenomenon."
The latest WHO figures show 2,371 cases of influenza A(H1N1) infections have been reported by 24 countries -- before Brazil and Argentina confirmed their first cases later Thursday bringing the total to 26. Forty-six people have died; 44 of them in Mexico and two in the United States.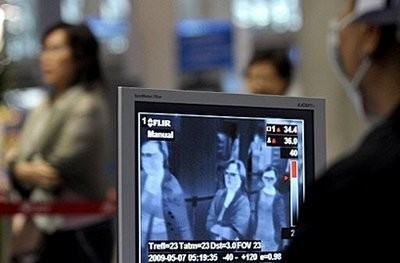 A Thai hospital official (R) monitors the thermal screening of passengers at an arrival gate of the Suvarnabhumi airport in Bangkok
An Argentine man who returned from Mexico on April 25 was infected and has gone into voluntary isolation, while three of Brazil's four confirmed cases had traveled to Mexico and the other had gone to the United States, the countries' health ministers said.
Canada's western plains also recorded their first two cases in Saskatchewan province, bringing the total number of people infected with the virus in Canada to 213.
In a video conference in Bangkok, Fukuda warned the disease could become more virulent later in the year with the onset of the northern hemisphere's winter flu season.
"Complacency is the greatest danger," warned Fukuda. "It does appear to be a period where the virus may be seeding itself in various parts of the world."
He later said that a third of the population could be infected, based on past pandemics. But "we live in a different world," Fukuda stressed. Up to 50 million people died of a "Spanish flu" pandemic in 1918.
Mexico's schools, bars and cinemas reopened, while strict health measures transformed daily life.
Movie-goers prepared to have their temperatures taken at movie theaters and, although many face masks came off, smiling and head-nodding still largely replaced traditional handshakes and kisses.
Sanitized restaurants and cafes operated under new rules including bigger spaces between tables and compulsory face masks for waiters.
"The fact that we're returning to classes and city activities are returning to normal doesn't mean that we should forget that the virus is still there," said Marcelo Ebrard, mayor of Mexico City, which recorded 70 percent of the country's fatalities.
Health Minister Jose Angel Cordova announced two more dead and 90 more cases, bringing the total to 44 dead among the 1,160 infected. But the number of cases peaked last week and was waning, he added.
The emergence of the virus, a new strain that has combined human, swine and bird influenza, set off fears of a global pandemic, despite a relatively low death toll.
Countries have imposed a range of measures to prevent a global outbreak, especially hitting the tourism and travel industries. Some have restricted meat imports from Mexico, Canada and the United States.
The three North American countries issued a joint call Thursday urging nations that buy their pork products to end any import bans, as Russia lifted a ban on five US states but added Illinois to its blacklist.
The number of confirmed US cases of swine flu rose Thursday to 896 from 642 in 41 states, according to a daily report from the US Centers for Disease Control and Prevention.
And US health officials warned against a trend for "swine flu parties" in which people deliberately expose themselves to the virus in the hope of developing an immunity.
Scientists meanwhile stressed the importance of preventing the new swine flu virus from infecting patients already sick with the deadly H5N1 avian flu, particularly in Asia.
"If both viruses wind up in the same individual, they could mix genes and mutate into a form that is both very pathogenic and easily transmitted among humans," John Oxford, a virologist at London Queen Mary's School of Medicine and Dentistry, told AFP.
Since 2003, the H5N1 strain of bird flu has killed more than 250 people in a dozen countries, according to WHO figures.
China meanwhile lifted a seven-day quarantine on passengers who shared a flight with a Mexican man who was later diagnosed with swine flu. A total of 127 passengers were allowed to leave isolation after having shown no signs of carrying the virus.